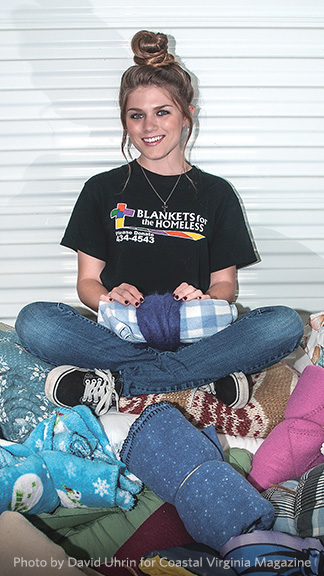 Since its founding in 1978, Regent University has been preparing men and women to excel in both mind and spirit. The institution's students, faculty, staff and alumni share a calling, founded on biblical principles, to make a significant difference in today's world.
Sometimes that difference is seen on a local scale in neighborhoods, communities, towns and cities. Other times the impact is much larger, when Regent's influence extends to state, national and even global levels. But at the heart of everything the university does is a desire to love and serve God, while also blessing people in all walks of life.
Doing that often requires an outward, proactive approach. It means being obedient to the apostle Paul's command found in Philippians 2:3, which challenges every believer to "esteem others better than himself." Today, that concept is more popularly referred to as "paying it forward" and involves selfless, servant leadership — the kind that's taught and learned at Regent University.
Blankets of Love
A current student at Regent's College of Arts & Sciences, Mariah Smith '17 started paying it forward when she was just 17 years old and founded Blankets for the Homeless. "I was at a Sonic® restaurant with my mother and I saw a homeless man," she remembers. "He was crouched down on the ground and had a little cart with him that had bags tied to it. He had a very deep, 'croupy' cough. It was heartbreaking."
What came next was the beginning of an incredible and inspiring ministry effort that has spanned five years and shows no signs of slowing down. "It's hard to describe what went through my mind at that time," Smith says. "But all I knew is that I wanted to do something to help him. I looked in the back seat and saw that we had a blanket. I grabbed the blanket and food we had ordered and took it to him. He immediately wrapped the blanket around himself and started eating."
Smith's first encounter with a homeless person left her in tears. But when she got home a few minutes later, the then-high school student knew what she needed to do: "I made over 300 fliers asking for donations of used blankets and distributed them to hotels at the Virginia Beach Oceanfront, local businesses, schools and churches. After just two days, people had donated over 50 blankets."
"I am doing everything I possibly can to ensure the needs are met for as many people as possible."
— Mariah Smith
Today, Smith and Blankets for the Homeless travel all over the Hampton Roads area of Virginia, helping people living on the streets and families living in hotels and in their cars. "We provide lunches, blankets, jeans, hoodies, hats, gloves, walking shoes, tents, toiletries, tarps, etc., for those who are in great need." Smith adds, "I speak at different churches, businesses, and organizations sharing my testimony and the needs of the homeless. When I speak, I ask and encourage everyone to make and carry a 'Blessing Box,' which includes nonperishable lunches, blankets, socks, water, etc., so when people see someone in need, they can immediately bless them."
After serving the homeless community for five years now, Smith sees the need growing steadily, no matter what the season: "I am doing everything I possibly can to ensure the needs are met for as many people as possible. The reality of what the homeless community goes through is extremely heartbreaking, and God continues to motivate me to work hard in making a difference."
The Shoe That Grows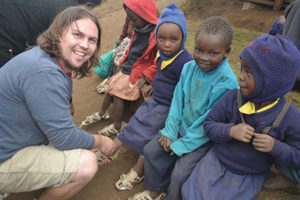 A mission trip to Kenya nearly 10 years ago changed Kenton Lee's life and the lives of thousands of children. A 2010 graduate of Regent's School of Business & Leadership, his heart broke when he saw orphans struggling to cram their feet into shoes they had outgrown. When Lee returned to the states, he founded and now serves as executive director of Because International, a nonprofit company that provides adjustable shoes to accommodate a child's growing feet.
"The Shoe That Grows" is a sandal that can be worn in five different sizes and lasts up to five years. "To date, we have distributed over 70,000 pairs to kids in over 80 countries," Lee says. "We are trying to pay it forward through practical compassion: small things that make a BIG difference."
Because International uses distribution partners to give "The Shoe That Grows" to kids around the world, but the organization is also thinking globally in hopes of impacting the lives of more than just the children who wear their sandals. "We are trying to pay it forward even more by also producing the shoes in the areas where they are being used," Lee explains. "This is going to bring jobs and increased economy to families challenged by poverty."
"We are trying to pay it forward through practical compassion: small things that make a BIG difference."
— Kenton Lee
The person who motivates the young husband and father of two to pay it forward is his dad, who passed away four years ago. "When he was living," Lee remembers, "he was the most generous, hardest-working man that I ever knew. I am constantly motivated by the example that he set. He was a plumber and worked hard every day of his life."
When asked about his time at Regent, Lee says the university gave him the confidence to achieve big goals: "Regent not only provided me with an excellent education and tons of wonderful information about being a leader, but it really gave me the confidence to be a leader."
"I think it's important for Regent alumni, believers and leaders to focus on paying it forward,"  Lee adds, "because we try to follow the example that Jesus set for us. His life was all about others. We need to do the same with our leadership, work, finances and free time."
Ending the Cycle of Trauma
Ray Casey, executive director and CEO of Hagar USA, can't seem to get enough of Regent University. After arriving on campus in 1992 with his wife Esther and two children (they now have 12 kids), Casey earned a joint M.A. degree in biblical studies and public policy in 1997, an M.A. in management in 2001 and a doctor of ministry degree in 2013.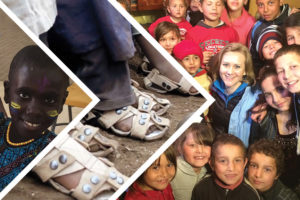 Casey calls his Regent experience "a tapestry of providence and God's grace," adding: "The investment that we put into the training that we received at Regent and the dividends and fruit that came out of it have been invaluable. Our experience there really shaped, in large measure, our life and worldview, as we embraced the mission of Christian leadership to change the world."
Hagar International is a global ministry with a vision to see communities free and healed from the trauma of slavery, trafficking and abuse. Casey has led their U.S. support office for two years. He says the organization cares for women and children in Cambodia, Afghanistan and Vietnam but is expanding into Myanmar soon: "Our focus is really three things: educating, advocating and fundraising on behalf of the programs on the ground. We travel throughout the U.S. and really seek to educate people on the global issue of human trafficking."
Casey is motivated to pay it forward through his work at Hagar because of trauma in his own life. "The care I received cultivated compassion for others and the desire for them to know Christ's love and freedom," he explains. "For those affected by trauma, and those who support them, Hagar is an expert in care and recovery. We believe when healing happens the cycle of trauma stops."
Inspired by his late father Richard Casey, who led him to Christ, this dad of 12 has a passion, shared by his Hagar colleagues, to "courageously follow Jesus' call to serve those who have suffered oppression and injustice." Casey adds, "As leaders we pay it forward by influencing, initiating, inspiring, and impacting others through demonstrating our love for God and our neighbor in humble service with gratitude."
A Promise of Hope
Another Regent alum working to help children on an international level is Nataliya Khom'yak '03. As the director of operations for Orphan's Promise, a children's ministry of the Christian Broadcasting Network, the 2003 School of Business & Leadership graduate works to fulfill the nonprofit organization's vision of "taking orphans and vulnerable children from at-risk situations into thriving environments."
A native of Ukraine, Khom'yak says the Lord placed a burden for orphans in her heart at a young age. "I know it is God," she insists, "because I grew up in a communist society where nobody ever talked about this; where orphans, like any other social matter, were the responsibility of the government. In the Soviet Union, anything that the government did was always 'the best.' Therefore, there was no 'orphan problem.'"
For 10 years, Khom'yak has worked alongside her close friend and mentor "700 Club" co-host Terry Meeuwsen, who has three adoptive children from Ukraine. During that time, the two women have seen Orphan's Promise go from a single training center in a little Ukrainian town to helping thousands of vulnerable children in 53 countries.
"The dreams of helping the orphans and the ideas of specific ways of helping were shaped into something tangible during my time at Regent," Khom'yak explains. "I was even researching orphan-related issues and writing feasibility studies and business plans for different solutions to the problem as my class projects."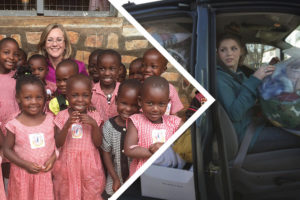 Now, the Regent education that equipped her with the tools to run a successful ministry is enabling Khom'yak to pay it forward. It's a concept she says is as old as the world itself: "God demonstrated it for humanity by blessing people over and over again, in spite of their ungrateful hearts and disobedience to His instructions. The Bible is also full of examples of God exercising this concept towards us and instructing people to act like that towards others."
While she insists that Jesus Christ is the greatest example of this concept, demonstrating it with His life and His gift of salvation and redemption, Khom'yak credits a second individual for modeling how to pay it forward. "My biggest inspiration and greatest example of servant leadership is the person who gave me life — my mom," Khom'yak says. "She still is an inspiration and an amazing example of an unselfish servant leader for everyone who knows her, and I am still learning a lot from her."
Khom'yak thinks it's important for all believers and Christian leaders to embrace the idea of paying it forward as a lifestyle: "Be looking for opportunities to bless others. That's what will help us live a fulfilled life and to change this world for the better."
Advocating for Youth
Allen Anjo and his wife, Julie, are trying to change the world for the better as missionaries and legal advisors to Youth With A Mission (YWAM) in Kona, Hawaii. The Christian nonprofit currently operates in more than 180 countries, sending volunteer missionaries around the world to share the gospel of Jesus Christ.
Originally from the small province of Nagaland in northeastern India, Anjo came to the United States in 2000 to pursue a bachelor's degree in business and computer science. By 2008, he had earned dual master's degrees, and in 2010, he arrived at Regent to again pursue dual degrees — this time from the Robertson School of Government and the School of Law.
In 2013, as Anjo was finishing up his Regent degrees and on track to become a prosecutor with the Virginia Beach Commonwealth Attorney's office, the Lord began to speak. "God spoke to Julie at that time," Anjo remembers. "(He) said, 'You are on track right now for a good life here. Do you want that, or do you want to live life with Me, as I would design it?'"
"It's not about how much you give. It's what you give and the heart that you have. If God gives you love, we give love back. If God gives us financially, we give back financially."
— Allen Anjo
Not long after that experience, the Anjos became aware of the need for full-time legal advisors at YWAM's Kona base in Hawaii. Immediately, they knew it was the opportunity that the Lord had been preparing them for: "Suddenly, it dawned on us what God had been doing in giving us this education over the previous 13 years," says the husband and father of two. "He gave us these experiences to prepare us for this job we were going into."
So they sold their possessions, packed their bags, moved to Hawaii, and have been paying it forward ever since. "I see it as a basic foundational tenet of being Christian," Anjo explains. "God gives us everything that we have, and He enables us to do the things that we do. So it's only right that we give back, and He's always asked us to tithe and pay it forward."
Anjo adds that others who paid it forward by donating to Regent helped provide the scholarships that enable him to be where he is now. "I've grown up in a missionary family, and we don't necessarily make a lot of money," he says. "Being a person from literally the backwoods of India, I had no resources and little money to be able to pay for my education. I pretty much owe all my education to people who have enabled me to get the scholarships I've needed."
But this attorney, husband and father wants to make clear that paying it forward doesn't require donating a lot of money. He encourages everybody to reach out and do something, even if it's small, to help change someone's life: "It's not about how much you give. It's what you give and the heart that you have. If God gives you love, we give love back. If God gives us financially, we give back financially."
For information about applying to become an on-campus or online student at Regent University, call 800.373.5504 or visit regent.edu/admissions.