In Apostle Paul's first letter to the Corinthians, he explains that, in doing everything to spread the Good News, he runs to win. With purpose in every step, his goal is to discipline his body like an athlete, training it to do what it should. (1 Cor. 9:23-27, NLT).
Because sports impacts society perhaps more than ever, that 2,000-year-old biblical truth still resonates loudly in today's world. That's also why Regent University remains committed to building its intercollegiate athletic program, which takes a giant leap forward this fall by adding six new teams: men's and women's soccer and cross-country track, women's volleyball and a cheer squad.
During the fall semester of the 2017-18 academic year, student-athletes will compete as the "Regent Royals" for the first time ever. The university unveiled the official team name, logo and other branding elements at a raucous pep rally on August 25. More than 1,000 students, faculty, staff and alumni were on hand to celebrate and support these new teams. The event revealed the growing passion and enthusiasm for Regent sports.

According to Dr. Joseph Umidi, Regent's executive vice president for student life, participation has more than tripled since the inaugural season of track-and-field competition this past spring. "We have seen quite a surge from 43 to 183 student-athletes," he says. "We have also been fully approved by the National Christian College Athletic Association (NCCAA) after our first probationary year for the excellence of our administration and Christ-centered focus of our staff with our students."
As the university's founder, chancellor and CEO, Dr. M.G. "Pat" Robertson made the final decision on the "Royals" team name, which finds its origin in 1 Peter 2:9 (NKJV). In that verse, believers learn they "are a chosen generation, a royal priesthood, a holy nation, His own special people" who have been called "out of darkness into His marvelous light."
"Our athletes are high achievers, competing with honor, integrity and excellence," Robertson says. "We're proud of them and wish them well as they take the field as Christian leaders."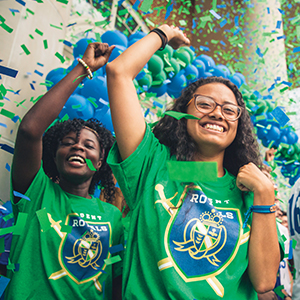 It's fitting that Robertson was asked to choose the moniker — not just because he's the school's founder. Umidi credits him with the decision to ramp up Regent's sports program: "Our chancellor's clarity of vision and leadership got us off the launching pad. We also had dozens of students coming to us from all corners requesting sports; along with qualified coaches and staff and alumni who wanted to help."
"I'm still floored by the grace and hand of God on the athletic program at Regent," says Roger Cheeks, the university's interim athletic director and director of student activities & leadership. "We started with a vision imparted to us by Dr. Robertson in April 2016, and to see the development of this program with outstanding staff of coaches and student-athletes is just amazing. We've started this journey with two teams, men's and women's track and field. Now, we have six more teams this fall."
Regent track-and-field coach Ayanna Reece will also lead this fall's men's and women's cross-country teams: "I truly enjoyed watching all the progress throughout the spring season. We had athletes who have never competed in a sport before step up and challenge themselves both physically and spiritually." She adds, "My expectations for the first season of cross country is that the athletes would grow together as a team and compete with courage and confidence."
Women's volleyball coach Roza Krasnova has high expectations for her team's inaugural season, but wins aren't her top priority. "Our goal is to establish an elite, Christ-honoring volleyball program that student-athletes would be proud to be a part of," she explains. "My desire is to help student-athletes, not only to realize their full potential as athletes and as a team, but to also grow in their knowledge of what it means to be a true example of Christ on and off the court."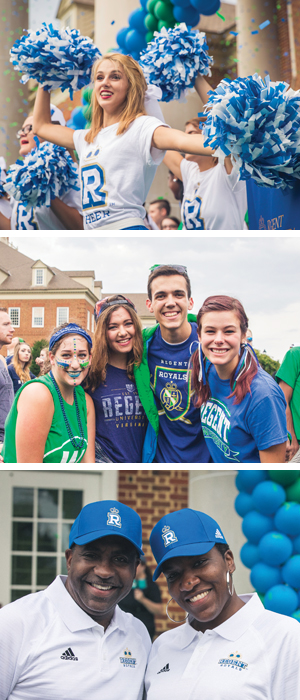 Krasnova continues, "I don't believe that simply counting wins and losses is what results in a successful or unsuccessful season. It is also about where we start from and how well and how far we progress in our training and in our game by the end of the season. … My prayer is for God to enable us to establish an outstanding volleyball program that competes with excellence and enriches the lives of each team member, as well as the entire Regent community."
For head soccer coach Samuel Okai, winning and losing will not determine his team's success. It's about young men and women reaching their potential as athletes, students and individuals: "Working hard to achieve our set goals as a team and institution is what I consider most important. … For us, it is all about developing winners and champions in the game and life — both on and off the field."
Okai is working hard to lay a good soccer foundation and to create a spiritual atmosphere and a safe training ground for athletes to "grow spiritually, develop technically and have a great experience in this inaugural season." He says, "We want to define a successful season by our positive influence on the game, great sportsmanship and growth in our spiritual life."
Head cheerleading coach Hannah Harden expects the inaugural season for her squad to be a time of growth. "There will be a variety of challenges for the team to work through, but I believe that each obstacle will make Regent Cheer grow spiritually, mentally and athletically," she explains. "I want each cheerleader to feel confident within themselves and as a team to walk out on the floor at all practices, games, competitions and events with a positive attitude, high energy and ability to give it their absolute best. That is true success!"
Harden points to studies that indicate 75 percent of students who have pride in their school return for events after graduation: "I believe that including cheerleading as a part of Regent's sports program is important to help increase this growing university's school spirit and involvement. Cheerleading helps boost athletes' confidence and overall enthusiasm as they compete and perform at the collegiate level."
Rodney Sanders, the strength-and-conditioning coach for all Regent sports teams believes that success relies on student-athletes doing everything with a purpose: "God is allowing them to be part of His divine plan and this is part of their spiritual journey. This is not the end but only the beginning, and through intercollegiate sports, God is growing their faith through discipline and obedience."
He says what makes Regent's teams different than those of other universities is their love for Jesus: "We may have 'Royals' on our uniforms, but every student-athlete knows they are an ambassador for Christ. We will represent Christ in everything we do, and others will see Him in every Regent student-athlete."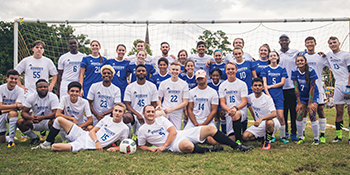 It's really no surprise that the role of intercollegiate sports at Regent is about much more than wins and losses on the field or on the court. "Our coaching staff is super clear that character, attitude, community and commitment under the lordship of Christ will establish a sports-program foundation for both success and significance," Umidi insists. "The growing victories at the games will be easy to measure. But the victories of how our teams represent the beauty and excellence of the Lord to other schools and spectators will be treasured long after they graduate."
Cheeks sees sports as one of the most influential and behavioral-forming areas in our society: "I'm excited about entering into another arena in our culture to provide opportunities for our teams and student body to change the world of sports because of their influence as Christian leaders."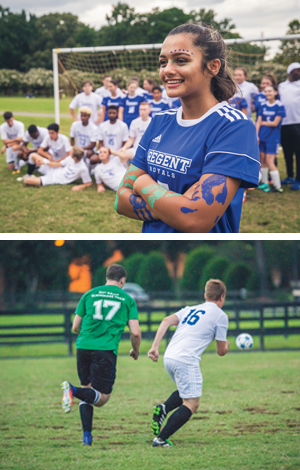 But in order for Regent competitors to be successful, he agrees that they need to model Christ in everything they do: "Being 'Regent Royals' is not limited to just the athletic department but the entire community consisting of current students, student-athletes, faculty, staff and alumni. … We are not only building sports teams but I believe we are adding another level of excitement, vibrancy and school spirit to our campus community."
"We need 'iron sharpening iron' opportunities (Prov. 27:17) to push us out of our mediocrity to pursue excellence," Umidi adds. "The discipline and execution of harnessing our heart, mind and body in training and college-level competition will also energize our academic and professional levels of excellence."
But in the midst of all the growth and excitement about an expanding intercollegiate sports program at the university, Robertson doesn't want anyone in the Regent community to take their eyes off the most important thing. "When we see sports teams and buildings and all these great things happening, we give God the glory," he insists. "Every bit of it belongs to Him. I don't want to see one iota of credit taken away from the Lord. It's His work, His university. He's going to put us out in front of the pack if we just listen to Him, are obedient to Him, worship Him and honor Him."
To support Regent's intercollegiate sports program financially, call 800.335.4409 or visit regent.edu/supportathletics.