On Sunday, June 19, a group of 40 Regent students and staff landed in Tel Aviv International Airport ready to start a 10-day journey through the Holy Land. None of them would leave Israel the same. Our "Passages" experience will stay with us for years to come.
This unique experience was organized by a budding nonprofit called "Passages Israel," which sends Christian college students to the Holy Land to "discover their roots, encounter Israel, and tell their stories." Privileged to travel there with my wife Katie, the trip placed a burden in both of our hearts for the nation of Israel, the Jewish people and the conflicts taking place in the Middle East.
Our group had the opportunity to walk where Jesus and the patriarchs walked, giving us the opportunity to sense the reality of the biblical stories for ourselves. We trekked to Nazareth, where Jesus grew up as a carpenter's son, and walked through Capernaum and Magdala, where he called some of his first disciples. We immersed ourselves in the Jordan River, where Jesus was baptized, and worshiped on the Sea of Galilee, remembering how he calmed the storm.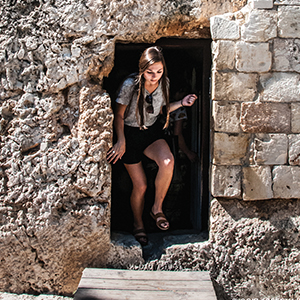 In Jerusalem, we marveled at the Temple Mount, wept in the Garden of Gethsemane and took communion together at the site where Jesus died and was buried. While it's difficult to describe the spiritual gravity of some of these experiences, at every turn, the reality of the biblical story was coming to life before our eyes.
But it wasn't just the biblical sites that marked our group forever. Passages ensures that students also have the opportunity to experience the modern nation of Israel, connect with Israeli culture and understand the dire conflicts that surround the nation on every side. One particular encounter that overwhelmed our group took place along Israel's border with Syria. Standing on a mountain, we could see and hear exploding bombs and rattling AK-47's in the distance.
Instantly, we began to get a sense of how much suffering was taking place around us. Our group was overcome with emotion, and we interceded for the millions of people who have been killed and displaced by conflict in the Middle East. College of Arts & Sciences (CAS) student Cassie Frazer says, "When I saw and heard the bombs going off in Syria, my eyes were opened to the reality of war. I could not deny the trauma that the people face there every day. All I could do was weep for them."
It was this same solemn attitude of prayer and faith in God alone that our group carried to Gaza and the West Bank. Our hearts broke for the Palestinian people there. So many of them struggle for the basic necessities of life.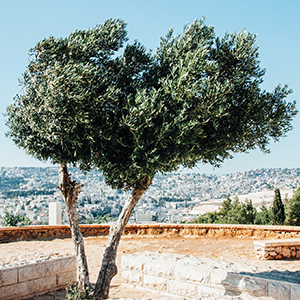 Even as we felt the weight of these conflicts, group members also found hope in the tangible joy of the Jewish people. While the Israeli government is committed to finding ethical, peaceful solutions to the nation's problems, there are certainly no easy answers for Israel nor the Middle East. But many of us on the journey pledged to become advocates for peace in the region, as we testify about what we saw and heard.
The Passages staff, our Jewish guide and I were blown away by the character and maturity displayed by the Regent group during our trip. My fellow students made a remarkable showing of what Christian leadership is all about. So many of us were not just moved with empathy, but we asked practical questions about what each of us, as Americans, can do to make some difference for Israel.
Another highlight was our group always reflecting the love and joy of Christ while in the Holy Land. We would stop to sing a hymn any chance we got. The Jews we encountered couldn't help but share how moving it was for them to see our evident love for God and for each other.
Robertson School of Government alumni Malcolm Fitschen '13 and Luke Moon '10, who serve at Passages and its sister organization the Philos Project, helped make the trip a possibility. More information about Passages is available on their website, PassagesIsrael.org.
"Journeying through Israel with Passages not only challenged me to grow spiritually and intellectually, it tied me personally to the land of Israel and its people," explains School of Divinity student Ashely Crouthamelvv (CAS alum).
Not only did we experience the ancient land in which God established our faith, but we gained a new perspective on our own world and a burden to be the change agents that it needs.
For more information about enrolling in a Regent degree program at one of the university's eight schools of study, call 800.373.5504 or visit regent.edu/apply.