Cybercrime cost the world $3 trillion in damages last year alone — an amount that's expected to double over the next four years. A cyberattack on credit-reporting agency Equifax in July reportedly compromised the personal data of half of all Americans, while web giant Yahoo! revealed recently that three billion user accounts were breached late last year. As the hacking continues with no end in sight, cybersecurity has become a primary investment priority for governments, businesses and institutions.
In an effort to be on the cutting edge of this rapidly expanding and increasingly important field, Regent's Institute for Cybersecurity recently unveiled its new Cyber Range. Developed in partnership with Israel-based global cybersecurity firm Cyberbit, Inc., this state-of-the-art facility will offer hands-on training programs where students will acquire the highest level of skills needed for careers in cybersecurity. Regent's Cyber Range also will serve as a groundbreaking and innovative training hub for businesses, institutions, government and the military.
"A cyber test range is very similar to a shooting range or firing range," explains Dr. Devanandham Henry, executive director of Regent's Institute for Cybersecurity. "You can hone your cyber defense skills. You can learn how to deal with attack scenarios. Knowing that you're not dealing with actual customer data, everything else in your experience is going to be very similar. That's why we call it 'hyper-realistic simulation.' This is as close to reality as you can get."
Nathan Pannell, Regent's assistant director of network engineering adds, "The greatest feature of this Cyber Range is how versatile the system can be. A corporation can approach us and recreate their network virtually. And they can come in and actually defend their network on our system without any ramifications on their own personal network, which is amazing."

A special ribbon-cutting ceremony and luncheon on October 3 welcomed students, alumni, faculty, staff and distinguished guests to the university's Communication & Performing Arts Center. Those in attendance heard from local, state, national and international officials who congratulated and commended Regent University for its investment and commitment to cybersecurity.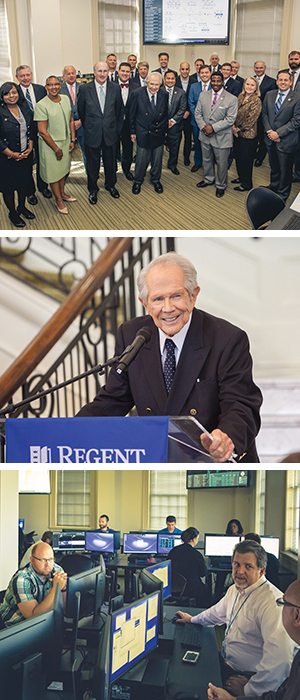 After he jokingly confessed to not being able to turn on his own computer, Regent University's founder, chancellor and CEO, Dr. M.G. "Pat" Robertson said to those in attendance, "This facility is going to be available for training military leaders, business leaders and especially the students of Regent University in cutting-edge technology. We are the only university that I know of in America that has anything with this sophistication available for exclusive use."
According to the Bureau of Labor Statistics (BLS), median pay for an information security analysts with at least a bachelor's degree is currently $92,600; the highest 10 percent earned more than $147,000 annually. The BLS projects a "much faster than average" job growth rate of 18 percent in the cybersecurity industry through 2024. Yet, even in the face of such outstanding job opportunities and income potential, analysts expect a projected shortfall of 1.5 million qualified employees for available cybersecurity positions in the next two years alone.
"A severe skill shortage exists in the workforce, while at the same time the threats to our country's security grow ever more sophisticated," said Robertson. "Regent's new Cyber Range will address the nation's need for thousands of additional cybersecurity experts to defend government and commercial networks from cyberattacks."
"We recognize, in this field, it's not just about having a degree behind your name. It's also about that relative experience," explains Cheryl Beauchamp, the university's department chair of Engineering & Computer Science. "We are committed to providing excellence in education here at Regent to meet the need for the national cybersecurity workforce."
Regent senior Ryan Connor '18 is one of several cybersecurity students who attended the ribbon-cutting ceremony. "I'm impressed by the quality of the range, by the resources committed and by Regent's obvious dedication to this initiative," Connor stated. "I look forward to this technology being incorporated into the cybersecurity curriculum at both the undergraduate and graduate level."
In welcoming faculty, staff, students and distinguished guests to the Cyber Range ribbon-cutting ceremony and luncheon, Regent's Vice President for Academic Affairs Dr. Gerson Moreno-Riaño said, "We want you to be among the first to experience Regent's new state-of-the-art Cyber Range facility — a facility that will position Virginia as a front-runner in providing world-class cybersecurity communication, simulation and training."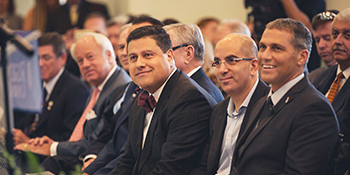 Moreno-Riaño added that Regent didn't create one of the leading cyber range facilities in the country by accident: "It is a result of God's blessing to this university and the visionary leadership of our founder, chancellor and chief executive officer."
Cyberbit CEO Adi Dar told the ceremony audience about the exponential demand for cybersecurity experts in the wake of an increasing number of sophisticated global cyberattacks: "This is why the forward thinking from Dr. Robertson and Dr. Moreno-Riaño is so important to the university, the state and the economy."
Representative Scott Taylor of Virginia's 2nd Congressional District congratulated Regent by way of a video message: "The need for cybersecurity is critical in our nation. There's an urgent need for trained professionals and continuing education for individuals and teams in business, the military and other government agencies."
"Cybersecurity is a key area that can help create high-paying jobs and diversify our economy," said Virginia Beach Mayor Will Sessoms in his congratulatory remarks. "Hackers invade our personal freedoms, disrupt our businesses and harass our family and friends. So the city of Virginia Beach is extremely proud and excited that Regent University is establishing the new Institute for Cybersecurity and the Cyber Range."
Former Congressman J. Randy Forbes of Virginia's 4th Congressional District and now a university fellow at Regent added: "The university does not just stand at the edge of a ribbon-cutting of a new Cyber Range. It literally stands on the cutting edge of our ability to prepare for the cyber threats that we will face tomorrow." Forbes continued, "This is a quantum leap in how we prepare for cyber threats because, instead of being reactionary, we can be strategic and plan for them."
The university does not just stand at the edge of a ribbon-cutting of a new Cyber Range. It literally stands on the cutting edge of our ability to prepare for the cyber threats that we will face tomorrow. – J. Randy Forbes
The keynote speaker at the ribbon-cutting ceremony and the luncheon that followed was Brigadier General Yaron Rosen, who just two days prior to the event had retired from the Israeli Defense Forces (IDF) as an Air Force pilot, commander of an Apache helicopter squadron and chief of the IDF cyber staff. He told Impact that cybersecurity experts should not be meeting the enemy for the first time when he's knocking at the door.
"You don't realize what you're dealing with until you have hands-on experience. You have to be one step ahead all the time. You have to have persistent defense," he insisted.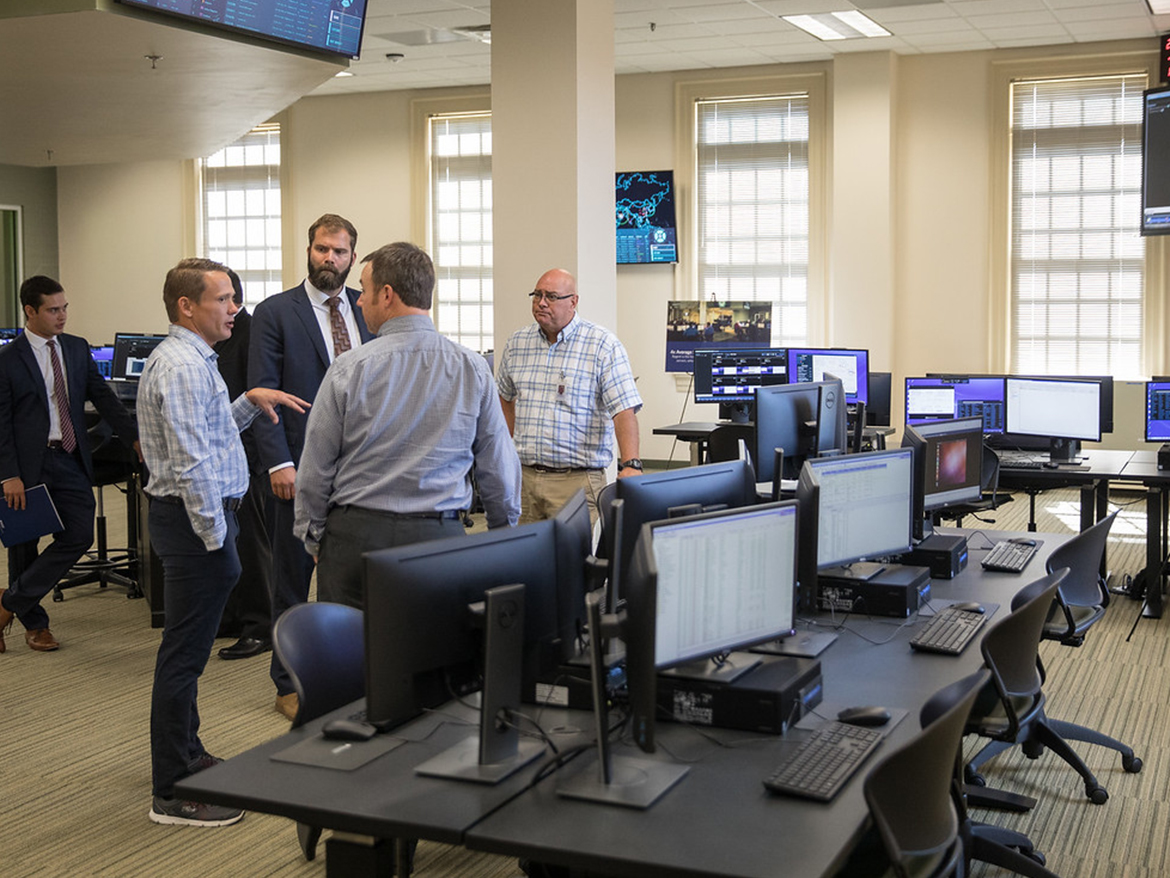 During his keynote speech Rosen added, "Ideas are flowing from one side of the globe to the other. That comes with a lot of opportunity but with risks. If you look at the risks, they're dangerous. All the flaws of the human being are in what we do. You make a computer, and it's breached. You create a new language, and it's breached. You have this perfect code, and it's breached. It will go on and on and on because of human flaws."
Rosen said that's why future investments must focus on the men and women who will stop cyberattacks and the people who launch them. "What you are doing here today is investing in the operators. You're not sending your airmen, your navy, your soldiers without preparation. Why do that in the cyber age?"
As he cut the ribbon, Robertson ushered in the important new chapter in the history of Regent University with these words, "It's my pleasure to dedicate this Cyber Range facility to the glory of God and to the use of His people all over the world."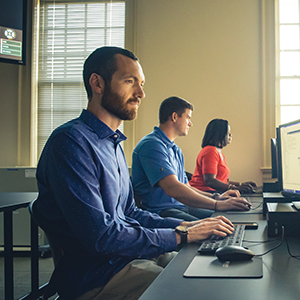 At the luncheon immediately following the ceremony, guests heard from two of Regent's distinguished professors. Former U.S. Attorney General John Ashcroft and Robert "Bob" McDonnell, former governor of Virginia, shared their views on the importance of cybersecurity and the significance of opening a cyber range on campus.
"This is one of those events that is truly nonpartisan," McDonnell declared. "I know we have people here from both parties and independents, because everybody agrees that this is one of those things that is a significant challenge for the United States. … Cybersecurity is a very timely issue that requires the best and brightest minds of people in America to use ingenuity to make a difference."
Ashcroft added that the three most important components of cybercrime prevention are preparation, preparation and preparation. "The complexity and difficulty of these circumstances — worms, malicious malware, weaponized computer use — are a significant challenge. And with the Cyber Range, Regent University is responding to the challenge," he said. "As the global peril increases, it is essential that our preparation is both aggressive and thorough."
"This is a place for Christian Leadership to Change the World, and that's still the vision of the leadership of the university," McDonnell added. "This is yet another down payment on that promise to have excellence on this campus and to do things that truly are cutting edge to be able to address real problems."
For more information about Regent's Institute for Cybersecurity, visit regent.edu/cyber. To pursue a cybersecurity degree at Regent's College of Arts & Sciences, visit regent.edu/cas or call 888.718.1222.