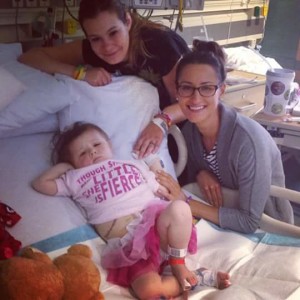 It isn't often that a visit to the nail salon saves a person's life. But in December 2014, one such trip changed two lives forever. While waiting to have her nails manicured, Regent Law student Molly Bricker saw a TV news story about a five-year-old girl from Portsmouth, Virginia, who needed a new liver: "I remember thinking, This little girl is so cute and so small and so happy."
As an infant, Sage was stricken with a rare form of leukemia. That illness required a bone marrow transplant, which resulted in her blood now being a different type than her family members'.
Bricker knew immediately that she had to help: "In that moment, God made it really clear that I had to do something." Having no idea that a person can donate a portion of their liver, Bricker spent the next hour on the phone, finding out if her and Sage's blood type matched. What may be even more impressive is that Bricker began the donor-application process just one hour before a final exam!
After learning that several other people were ahead of her on the donor list, Bricker returned her focus to her legal studies and even began making plans to spend her summer working as a law clerk. But those plans changed in late spring, when she received a phone call that would change two lives: "I'd almost forgotten about it when they told me I was on the top of the donor list."
"Everyone needs to know that God is the focal point.
That's all I really want."
Tests on June 1 proved Bricker was a match, and she donated a portion of her liver to Sage just three days later: "Before the surgery, God was constantly reminding me that He was in control. I tend to need a schedule; I need a routine. So, I was shocked by my lack of anxiety I had throughout the process, which I attribute to God 100 percent."
Today, Sage is recovering nicely, supported by a portion of donated liver that will continue to grow as she does. Bricker's liver is expected to heal to its full size in a matter of months: "I heard from Sage's family recently that she is doing well. She still has check-ups but had a fun summer and started kindergarten this fall. God is good!"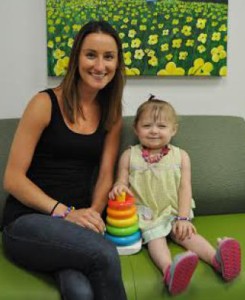 Sage's mother, Athena Alexander, insists that Bricker saved her daughter's life: "She wouldn't have made it another month. It was heartbreaking knowing that I couldn't save her. I had to rely completely on a stranger. It took a long time to find someone, and it was just in time. There's no way to even begin to say thank you for that. We owe her so much."
Bricker says she also is doing well and that her recovery process has involved eating lots of protein – specifically hamburgers. "The body craves what it needs, I guess. I'm a hungry, hungry person," she laughs.
But the Massachusetts native is also courageous and caring. Not many people would be so concerned and giving to someone they have never met: "It was definitely a challenge, but because I felt so sure that this was what the Lord wanted me to do, I just trusted that He would sustain me. I am very thankful and encouraged by God's faithfulness."
"Before the surgery, God was constantly reminding me that
He was in control."
Her inspiring story has made the second-year Regent Law student a bit of a celebrity. But whether she's being contacted by the local news or People magazine, Bricker wants to make sure God remains at the center of her story: "It has been a very humbling experience for me, but I am blessed to be able to share about God's goodness and glorify Him in the process!"
She adds, "Anybody who's asked about my experience, I've just wanted them to hear about God's sovereignty. He's the only reason I applied and the only reason the surgery was successful. Everyone needs to know that God is the focal point. That's all I really want."
To learn more about Regent Law, call 877.267.5072 or visit regent.edu/law.