Christian leadership can change the world. That conviction has guided Regent since its founding in 1978. It also compels the university to provide more than $17 million in critically needed scholarships, grants and discounts every year. Now 20,000+ alumni strong, Regent remains fully committed to making high-quality, Christian education affordable to those who seek it. As a result of record enrollment growth, thousands of graduate and undergraduate students are preparing to make a global impact. Meet three of these Regent "World Changers," who are being equipped to lead with the help of donors providing life-changing financial aid.
Ebenezer Murengezi was born in Rwanda and is the youngest of five children. His family fled the 1994 genocide when he was just seven years old. After living in the Democratic Republic of Congo, Tanzania, and Kenya, Murengezi came to America as a refugee in 2013.
"When I moved to U.S., I had a handful theological courses," says the married father
of three. "I was looking for a Christian university that would accept them and offer online classes. During my research, Regent came up. Surprisingly, my wife previously had an interest in Regent without my knowledge.
It became evident that Regent was my school."
But how would someone living in the United States, as a refugee, ever be able to afford college? Murengezi insists, "There's no way I can afford this amount of money. I see my scholarship as God's provision and an answer
to prayers. It has been freedom from worries and stress."
Thanks to the faithfulness and generosity of Regent donors, Murengezi can answer God's call to ministry: "He has sustained me to become equipped for what He has called me to do. Through what I have learned, I will impact others, as I become a vessel of the Good News … bringing light to those who are in the dark."
Sarah Dimovski, a student in the university's College of Arts & Sciences, arrived on campus from Texas, by way of Michigan, where she was born. "We did not grow up very wealthy," she remembers. "There are many times my dad would get laid off and bring home a bag of potatoes to eat. Thankfully, God always provided for our family — we never went hungry. Yet, my family definitely did not have a college fund for the four children."
For Dimovski to attend college, she would need more of God's provision. It came in the form of a scholarship, which she says, means the world to her: "I would definitely not have been able to attend Regent without this scholarship. … Now, I'm receiving the very best college education and able to grow in my Christian faith."
A Christian Ministry major, who also serves as a resident assistant at the Regent Commons residence hall, Dimovski wants to use the training and skills she develops during her degree program to mentor and minister to women. She also wants everyone who supports Regent through prayer and financial giving to know that their generosity will touch other lives, just as it has impacted hers: "Your investment in me and in my education has changed my life forever.
I would never have been able to attend a Christian university and receive a Christian education without your generosity. Thank you!"
Brandon Vera didn't have to travel far to attend Regent. Born and raised in Virginia, his mother took what he calls "a random tour" of the university and felt God's presence. When he took a tour of his own, Vera knew he was supposed to be at Regent: "God has called me to major in Communication because of my ability to interact with many people and solve problems from unique standpoints."

One of those "unique standpoints" is a condition called Arthrogryposis Multiplex Congenita, a physical infirmity that results in stiffness of the muscles, joints, tendons, ligaments or skin, and restricts normal movement. Vera says he's learned from more than just his classwork at Regent: "I have come to understand how to live with this disability. Instead of being a burden, it has been a gift in disguise. I have learned how to do normal things in different ways and do them efficiently."
While pursuing his degree, Vera performs with the Regent University Singers. (See page five.) That participation accounts for one of the much-needed scholarships he receives, so that his educational expenses don't have to compete with his medical costs.
"It has helped relieve some of the financial tension, in terms of tuition payment," Vera says. "Without the scholarship, I would have needed to take out a loan and increase my already overwhelming debt."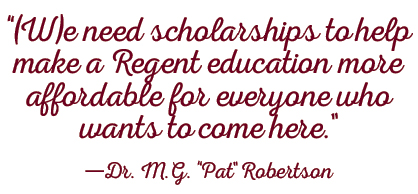 These World Changers attend Regent thanks, in part, to the financial and prayer support of university donors. As 2015 comes to a close, it's important for alumni and friends to invest generously in their future — to align with the truth that people make all the difference when guided by godly principles.
"Without question, our students stand out among those from other universities," says Regent University founder, chancellor and CEO Dr. M.G. "Pat" Robertson. "I believe that our students, connected with God's power and purpose, are the hope of the world. But we need scholarships to help make a Regent education more affordable for everyone who wants to come here."

Find out how you can sponsor a World Changer by calling 800.335.4409, or visit regent.edu/worldchanger. Regent also has a certified financial consultant available to discuss the many planned-giving options available to you, such as gifts of stocks, bonds, real estate, insurance, trusts, annuities and bequests.