Many colleges and universities rely on sports teams to create a sense of community and identity on campus. Regent students find their community and identity in the unifying power of the Holy Spirit.
Even university leadership is seeing God move in unprecedented ways. "We have more devotion to the Lord and more fervor on this campus than, I think, we've ever had," says Regent Founder, Chancellor and CEO, Dr. M.G. "Pat" Robertson. "These students are just on fire for the Lord!"
Two recurring on-campus events have become key to igniting that spiritual fire and fanning its flames. The first is Unchapel, a weekly student-led and student-oriented chapel service held every Thursday night in the Regent/CBN chapel. A group of students initiated the idea several years ago to provide a prayer-and-worship experience that was different from a "regular" University Chapel service.
Rev. Jason Peaks, Regent's director of campus ministries, says the goal of Unchapel is to facilitate the opportunity for Regent students to experience the presence of God in four aspects: "We want students to have an opportunity for free expression in worship, active service involvement, unifying community, and intentional scriptural direction."
He adds that Unchapel is entirely planned, organized and run by Regent students. "I oversee and guide the event, but mostly the students are the hands and feet that make the event work," Peaks explains. "It takes more than 30 students each week to run Unchapel in roles including hospitality, sound, sponsorship, visuals, lighting, worship team, ministry team, event production, host team, and even a speaking team."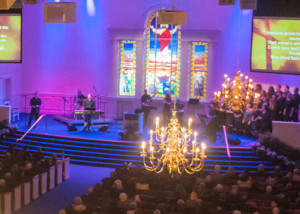 Regent's Night of Worship (N.O.W.) events, which are held on campus at least once a month during the school year, seek to draw together the entire faith community in Hampton Roads, Virginia. Organized and hosted by the Office of Advancement, N.O.W. concerts feature well-known Christian music artists who join Regent students to "worship the Father in spirit and in truth" (John 4:23, ESV).
Laura Thomas, a director of event programming at the university, says N.O.W. is accomplishing its intended purpose of uniting thousands in worship: "These events provide a great opportunity for our campus and community to come together as one, entering into the presence of God under the leadership of phenomenal Christian artists."
"I think community is built around a desire to worship and a hunger for discipleship," Peaks adds. "Unchapel and N.O.W. are the heart and pulse of the student's spiritual life. I genuinely believe that both are learning environments where students can have life-changing moments with the Lord alongside their friends."
Recent N.O.W. events featured powerful performances by gospel singer Casey J earlier this month and Rend Collective, a "folk-indie" Christian band from Northern Ireland, back in January. Band member Ali Gilkeson called N.O.W. a throwback to the band's origin: "That's always been our heart, long before music or worship music, or making songs was a part of our lives, discipleship for college-aged people was really very much our heartbeat."
Through these weekly and monthly celebrations of faith and worship, Regent students are realizing and embracing their calling to attend, learn and thrive at the university. More importantly, they're becoming Christian leaders to change the world.
"Regent's spirituality is a distinctive of the university," Peak insists. "Dr. Robertson started this school for God's glory after hearing the Lord speak to him in an ordinary moment of life. We think Unchapel and N.O.W. are crafting moments for people to give God glory and to hear Him speak."
For details about upcoming Night of Worship events, contact Regent's Office of Advancement at 800.335.4409 or visit regent.edu/now.