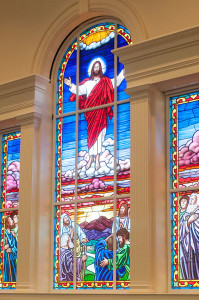 In 1978, Dr. M.G. "Pat" Robertson founded a school for God's glory and called it CBN University. Yet back then, he really had no idea what the Lord's plan was for this institution of higher education.
"I founded Regent, but I didn't realize what God had in mind. He has in mind a school that is going to change the culture of this world," says Robertson, who is also the school's chancellor and CEO.
CBN University (which changed its name to Regent University in 1990) grew steadily, offering only graduate degrees in its early years. First, there was the School of Communication & the Arts. The School of Education came two years later, and then, in 1982, the School of Divinity was "born." For a university with the motto "Christians Leadership to Change the World," training and equipping students to become pastors, missionaries, theologians and lay leaders was a top priority.
"Regent is destined for greatness," Robertson insists. "This university is going to be an island of stability in the midst of global chaos. Our job is to train Christian leaders to change the world, and we're going to succeed."
To help ensure that success, Regent ushered in a new era of leadership at the School of Divinity by welcoming Dr. Corné Bekker as dean in December 2015. While Bekker is definitely no stranger to the university (he's been on staff in multiple capacities since 2005), the native South African is bringing a renewed vision along with proven leadership skills.
"The School of Divinity has a deep and rich history of Holy Spirit-empowered education and formation for ministry," Bekker explains. "We will be building on this strong foundation with the aim to recover ancient, biblical faith for the church of the future."
Bekker points out that the School of Divinity has experienced significant growth, close to 30 percent, in the past year. It's a trend he's determined to see continue: "Regent's mission statement of Christian Leadership to Change the World is at the heart of the School of Divinity. We believe that the centrality of God's Word in all that we do is what empowers this mission."
Martin Luther's famous quote regarding the Bible and the mission of Christian education are at the heart of Bekker's work, ministry and leadership:
"I am much afraid that the universities will prove to be the great gates of hell, unless they diligently labor in explaining the Holy Scriptures, and engraving them in the hearts of youth. I advise no one to place his child where the Scriptures do not reign paramount. Every institution in which men are not unceasingly occupied with the Word of God must become corrupt."

–Martin Luther
A well-respected church leadership expert and prolific scholar, Bekker previously served as department chair for Biblical Studies and Christian Ministry in Regent's College of Arts & Sciences (CAS). He has also headed the Ph.D. in Organizational Leadership Ecclesial Leadership concentration of the School of Business & Leadership (SBL).
"Dr. Bekker ranks highly among the finest thinkers and professors in the world on the topics of ecclesial leadership and theology," says Dr. Gerson Moreno-Riaño, Regent's executive vice president for Academic Affairs and CAS dean. "We are confident, that as the embodiment of a servant leader, he will inspire the faculty at Regent's School of Divinity to even higher levels of teaching excellence, scholarly accomplishment and commitment to orthodox Christianity."
When Bekker took the helm as dean, Dr. Joseph Umidi, a long-time professor and interim dean of Divinity since July 2014, returned to teaching and serving as Regent's executive vice president for Student Life. "Dr. Bekker has a proven track record in the academy, in the Church, and in the global community for equipping godly leaders who are world changers," Umidi explains. "His humility is a role model for emerging leaders. I believe the School of Divinity will do greater things to launch church and ministry leaders in the next decade that will continue and advance our unique role to the Church and to the nations."
SBL dean Dr. Doris Gomez, who worked alongside Bekker as a fellow faculty member for years, agrees: "I rejoice over this appointment. I know Dr. Bekker to be a man of great faith, deep commitment to Christ, His Church and kingdom, and an abiding love for Regent University, its faculty, staff and students. … I have no doubt he will lead the School of Divinity with great humility, wisdom and a deep conviction and understanding of God's call on this precious institution."
"We live in a time when our world is increasingly becoming pagan and the Church is being secularized," Bekker adds. "It is my firm belief that the gospel of Jesus is the answer to the challenges that our world faces."
For more information about pursuing a degree at Regent University's School of Divinity, call 800.373.5504 or visit regent.edu/divinity.