Regent's moot court teams are consistently ranked among the best in the nation. They have built an impressive record of achievement for a university that's less than 40 years old.
"Our moot court successes have been an important part of raising the profile of the School of Law," says Regent Law Dean Michael Hernandez. "Our success going head to head against other schools, and being one of the top moot court programs in the country, is a reflection of the quality of our students and academic program."
This year is no exception. Two moot court teams from Regent's School of Law traveled to separate competitions on the same weekend recently and were successful on both a national and international level.
The annual Andrews Kurth National Championship was held at the University of Houston on January 28-30. It featured the top 16 moot court programs in the United States. Regent's team — coached by Hernandez and featuring students Renee Knudsen, Marie Dienhart and J. Palmer Horst — won the award for best brief and placed second overall. The team surpassed New York University, Seton Hall University, Southern Methodist University, Stetson University, Liberty University, and nine other schools.
"Our success going head to head against other schools, and being one of the top moot court programs in the country, is a reflection of the quality of our students and academic program."
Over the same weekend, at the Price Media International Law Competition in New York City, a different Regent team, led by Professor Jeff Brauch, swept that contest for the second year in a row. Competing against universities from North, Central and South America, students Sandra Alcaide, Christy Hurst and Palmer Hurst won the top prize for the best brief. Alcaide also was named best oralist.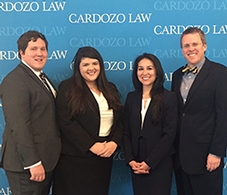 "This team did a great job," Brauch says. "(They) competed at a very high level and grew stronger by the round. Everyone's diligent preparation combined with their natural giftedness made them a powerful team. To win the Best Memorial (brief) for the entire Western Hemisphere is a tremendous accomplishment."
The students who won the Price Media competition advanced to the international championship rounds held at Oxford University in the U.K. this month. In 2013, Regent placed second at the same competition.
"A victory this time around would be one more sign that the law school provides a legal education that is second to none," Brauch says.
But he adds that even if these students don't win the world championship, they have already done amazingly well to sweep the awards for the Western Hemisphere and to qualify for Oxford. Still, he says, "A win there would be an incredible icing on that pretty impressive cake!"
The impact of these victories could extend far beyond the classroom and into the students' future professional lives. Hernandez says employers looking to hire litigators and judges, evaluating applicants for clerkships, often give significant weight to prominent moot court achievements.
"These experiences provide invaluable practical training for the practice of law," he explains. "Winning a competition or brief or oral-advocate award enhances the student's resumé. Some of our students have received job offers after a moot court judge observed and was impressed with their arguments."
When Regent Founder, Chancellor and CEO Dr. M.G. "Pat" Robertson learned of the teams' victories, he knew people would wonder how "a little school in Virginia Beach" could be so successful. "The truth is, our students have learned how to express themselves," Robertson explains. "That's what a Regent education does. It teaches men and women how to think. As a result, our moot court teams are going to continue beating everybody!"
For information about full-time and part-time degree programs at Regent University's School of Law, visit
regent.edu/law or call 877.267.5072.