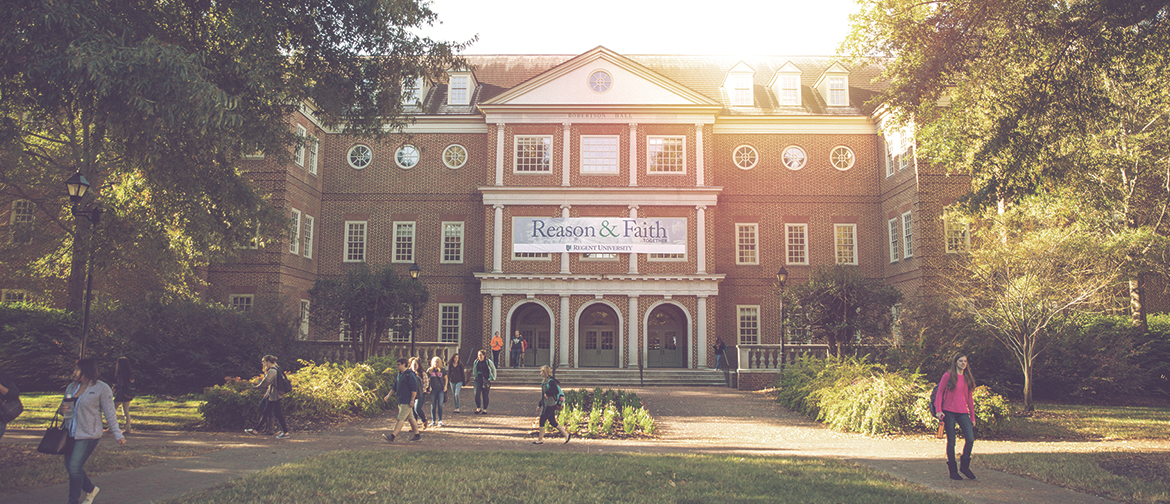 A quick look at today's headlines exposes a level of distrust in national and world government that is fueling a political revolution. "For such a time as this," Regent offers its Master of Public Administration (MPA). This academically challenging, distinctively Christian program equips strong leaders to influence every level of government and society.
Program chair Dr. Gary Roberts says the degree, which can be earned on campus or online in as few as 24 months, was "birthed" in Robertson School of Government (RSG) to fill what he calls a serious gap in higher education. "There are no explicitly evangelical Christian MPA programs," he explains. "There is a great need to train and equip the next generation of Josephs, Daniels, and Esthers to serve government and nonprofit organizations with excellence promoting constitutional, limited, effective and efficient government."                                                        
Roberts attributes the program's early success to "prayer and the providential blessing of the Lord." RSG dean Dr. Eric Patterson says it's already a "middle-tier program" in terms of current student enrollment, just three years after it was introduced. In fact, MPA admissions are up significantly this spring in comparison to the previous spring semester.
"Christian public servants are needed in every level of government, from city hall to federal agencies," Patterson insists. "In the U.S. alone, there are more than 19 million non-military government employees, all of whom will go somewhere for their training and education. Regent wants to train 'Christian leaders to change the world' in how day-to-day government operates in the public interest."
Trust in government and its institutions is at historic lows. For that reason, Roberts says, "There is a critical need to equip men and women of character and competence to serve as skilled and wise stewards of the public interest. The MPA is the 'degree of choice' in preparing students to assume leadership roles in our increasingly complex governmental environment."
Crystal Featherston, from Norfolk, Virginia, graduated with her Regent MPA in May 2014. She loves her full-time job as management and budget analyst for the City of Virginia Beach: "I chose to pursue an MPA because I wanted a versatile degree that would allow me to gain a position in government, where I could effectively contribute to process improvement." Featherston adds, "The Robertson School of Government showed me how to take that desire and tie it in with my faith."
Bill Dudley is a civilian employee at Naval Station Norfolk, who also earned his MPA from Regent in 2014. "I chose Regent for its excellence," he explains. "I chose this degree because it applied to my current job with the Department of Defense."
A primary RSG goal is helping mid-career Christians gain a wider set of tools. Roberts says Regent has the faculty to do exactly that: "We are blessed with outstanding faculty and staff who are called and equipped by God to not only teach, but to disciple students. The MPA faculty is superbly equipped, balancing outstanding academic training coupled with an impressive breadth and depth of experience in government and nonprofit organizations."
Patterson agrees that the program's professors and practitioners-in-residence are keys to guaranteeing the best possible online and/or on-campus experience and outcomes for MPA students: "The distinctives of RSG are our Christian foundations and our faculty's government experience, from federal service (USAID, U.S. State, Defense and Justice Departments) to state and local government. We take our faith perspective seriously but recognize that there is no single 'Christian' approach to the diverse and dynamic issues of public life."
Roberts says Regent's MPA degree seeks to create Christian public administrators in the mold of William Wilberforce, the famous 19th-century British statesman and abolitionist: "Our program explicitly incorporates the principles of servant leadership, enhancing both the character and competency of students in their Great Commandment and Great Commission callings."
Learn more about enrolling at Regent's Robertson School of Government by calling 888.800.7735 or visiting
regent.edu/government.