Kristen Waggoner '97 was honored at commencement as the 2016 Alumnus of the Year. The Regent Law grad is the senior vice president of Legal Services and senior counsel at the Alliance Defending Freedom (ADF), an alliance-building, nonprofit legal organization that advocates for the right of people to freely live out their faith.
"I know the kind of caliber of graduates that Regent produces," she said before the ceremony. "There are just so many who are changing the world for Christ. So I'm happy to play my small part, which is part of a bigger team."
Waggoner supervises ADF's domestic litigation efforts, which include the work of about 60 in-house attorneys and some 3,000 allied attorneys involved primarily in religious liberties cases. ADF contributed to 47 Supreme Court victories and has won about 80 percent of the cases the organization has litigated to conclusion.
During her commencement speech, Waggoner said Regent was the only law school that she and her husband Benjamin considered because of its unique mission to equip Christian leaders to change the world. "We have never, ever regretted that decision," she explained. "Regent has profoundly impacted so many lives, cultivating a strong commitment to godly character and to excellence."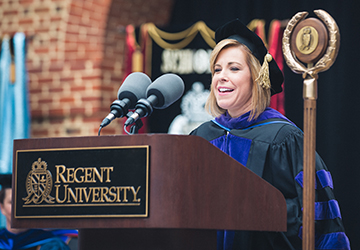 Through her work on many high-profile legal cases, Waggoner has appeared on major news networks and been quoted in many widely read newspapers as a leading voice for the religious liberties of Christians. "When I came to Regent, I felt God's call on my life to defend religious freedom," she told Impact. "But to see this kind of hostility on American soil is unprecedented. At the same time, it's incredibly encouraging, because when you have great adversity, you have great opportunity."
Waggoner is confident the Lord called her "for such a time as this" (Esther 4:14): "God chose us to live in this time. It's not a random event. He trusted us enough to put us here to take a stand, right now. That's a pretty inspiring call."
Please join the entire Regent University community in praying for the work of religious-liberties attorney Kristen Waggoner, May's Alumni World Changer.