Scripture tells us in Luke 12:34, "For where your treasure is, there your heart will be also" (NIV). On the eve of this year's commencement ceremony, Regent recognized five families who chose to place their treasure — in the form of their time, talents and finances — with the university.
As partners who have a heart for equipping Christian leaders to change the world, these families were honored as inaugural members of The Society of the Crown and Shield. Each of the inductees was recognized for playing an active and pivotal role in shaping both the history and future of Regent University.
"We believe the time had come to acknowledge and celebrate these special friends," says Regent Vice President of Advancement Ann LeBlanc. "So this year, we introduced The Society of the Crown and Shield, an association that honors university benefactors who have given $1 million dollars or more over their lifetime."
The Society of the Crown and Shield draws its name from two integral elements of Regent's heraldic crest. The crown represents the King whom we serve, Jesus Christ. The shield, in both educational circles and in the fellowship of believers, signifies the shield of faith and protection.
During a ceremony and dinner at the Chancellor's residence, inaugural inductees received the society's distinguished Medal of Honor. Cast in precious silver with the Regent crest boldly displayed at its center, the majestic medallions were presented to each honoree as an enduring symbol of their generosity and faithfulness.
"These donors have gone above and beyond to enable Regent to fulfill its mission."
— Dr. M.G. "Pat" Robertson
"These donors have gone above and beyond to enable Regent to fulfill its mission," explains Regent Founder, Chancellor and CEO Dr. M.G. "Pat" Robertson. "Through their generosity, this exclusive group has demonstrated an extraordinary passion for and commitment to the vision of this university. It was our pleasure to acknowledge these faithful friends who have honored God by giving from their abundance to further His kingdom here on earth."
At this year's first-ever Society of the Crown and Shield ceremony, Regent inducted five families as inaugural members. Among them were Howard and Wendy Long and Drs. Kenneth and Roberta Eldred.
Howard Long embraced the mission and vision of Regent University in its early days, when it was still called CBN University. Since 1983, he has served faithfully as a rotating member of the Board of Trustees. Over the past 30 years, the Longs have helped more than 100 students in the School of Business & Leadership earn their MBA.
"In all of the philanthropy and contributions I've made, this is the safest one I've ever felt, because I knew God was here," Long told Impact after the induction ceremony. "So I never had any hesitation or worry."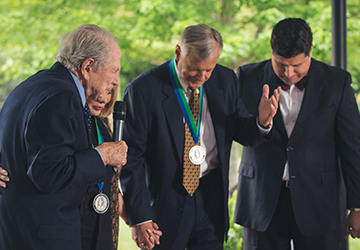 Drs. Kenneth and Roberta Eldred are authors of Regent's history and architects of its future. For more than two decades, the Eldreds have served on the board, while sponsoring numerous endowed scholarships and building the kingdom in ways that can never be quantified.
"We were really honored to be considered for this," Ken Eldred said. "We feel a little funny because we really don't want that kind of recognition, because the Lord has done all this for us."
For Roberta, the real joy is in helping students: "What I really love so much is that they learn about wisdom, but they also learn Who wisdom is, and they follow Him. It's just amazing to me."
Ken added, "To be here on campus and see all the growth and the things that God has brought to the university is very, very encouraging to us."
Candidates for The Society of the Crown and Shield are confirmed in the spring of each year and inducted into membership at a special commissioning ceremony held during Regent's annual Commencement Weekend. This year's inductees participated in the university's graduation exercises, as distinguished members of the processional in full regalia.
It's a tradition that Regent plans to incorporate into commencement celebrations from now on, as a special way to thank major donors for their cherished friendship and generosity.
"As partners in Regent's mission, these families represent the heart and soul of the university," LeBlanc says. "Together, we are creating the next generation of principled leaders who will transform cultures and nations in the name of Jesus Christ."
For information about how you can support Regent University with your donation of cash, securities, annuities, trusts, bequests and other gifts of equity or property, please visit regent.edu/give or call 800.335.4409.