Higher education isn't usually a laughing matter. One notable exception is if you're a finalist in the comedy category at the 37th College Television Awards in Hollywood, California. In May, four Regent University filmmakers were recognized for their work in student film.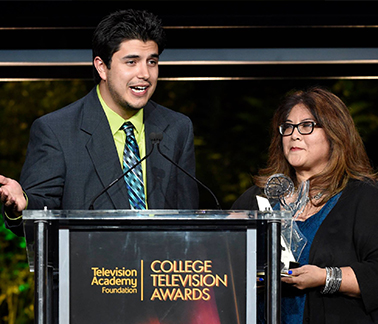 School of Communication & the Arts (SCA) alumna Raquel Sangalang ('15) and College of Arts & Sciences (CAS) alumnus Justin Garcia ('14) accepted first place in the "Comedy" category for their film, Terrance. SCA alumni Beecher Reuning ('15) and Eric Camacho ('15) were nominated in the same category for their film, A Pointless Pencil, and took home third place.
The head-to-head competition included films from other well-known universities, such as the University of California, Los Angeles (UCLA) and the University of Southern California (USC), which are both in Hollywood's "back yard."
SCA dean, Dr. Mitch Land, says having two Regent student film teams nominated and win first- and third-place awards reflects the outstanding talent of both the students and their professors: "We are so proud of these students, the amazing Regent film faculty who mentored them, and a university film program that is second to none."
Formerly known as the Student Television Awards, the College Television Awards started in 1978 to recognize excellence in student work. Since then, the ceremony has grown to a nationwide competition that awards more than 65 trophies in multiple categories.
Designed to emulate the Emmy® judging process, entries are reviewed by active Television Academy members. Students submit their pieces through an online platform and undergo a three-round judging process. Winners in all categories receive cash awards and are flown out to Los Angeles for the awards ceremony.
Sangalang says that she and Garcia, along with their cast and crew, shot their 19-minute, live-action film over four 10-hour days in 14 locations: "Our team worked really hard. All the cast and crew knew exactly what to do. They were dedica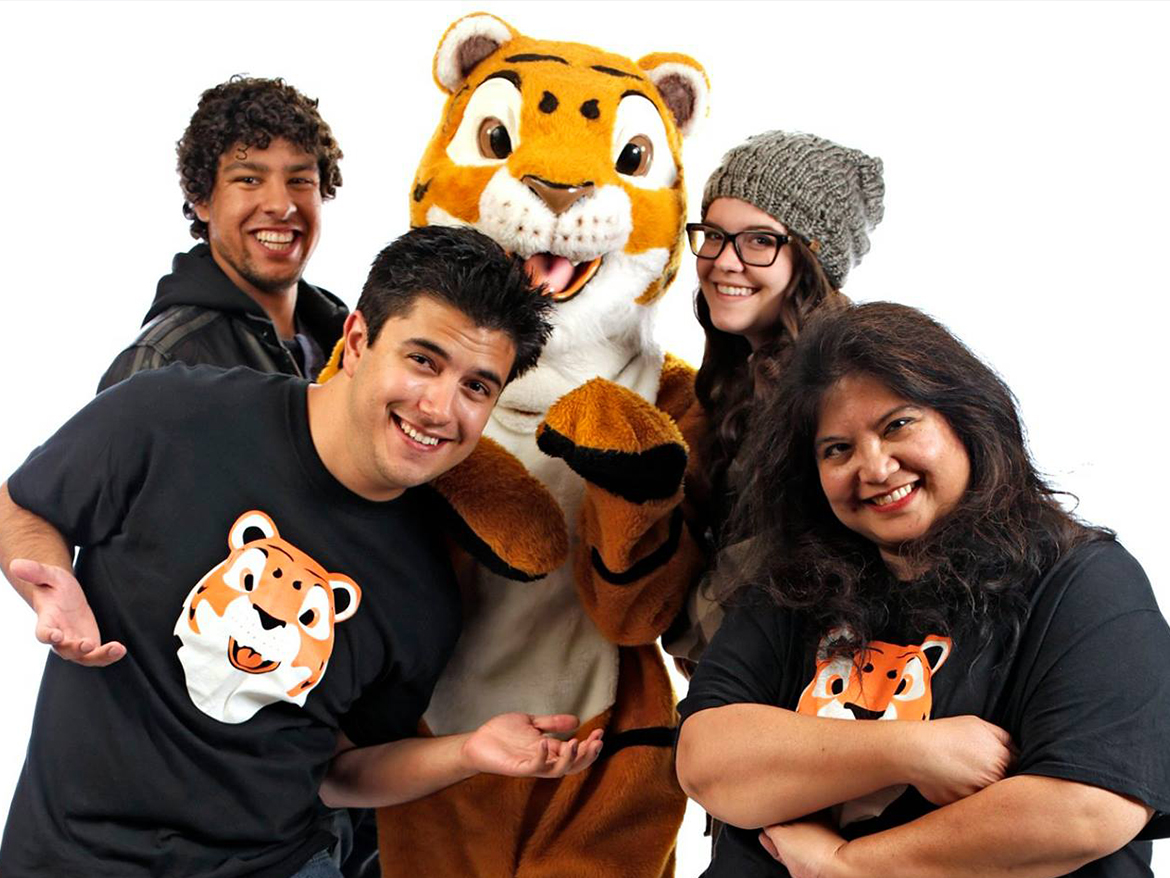 ted to the film as much as we were."
Terrance features the acting talents of Regent alums Gabrielle Davison ('13) and Josue Casanova ('15). The short film tells the story of a shy, young woman who, when prompted to find a date for her sister's wedding, begins wearing a tiger-mascot costume. Terrance has received recognition from several film festivals, including winning the award for "Best Short" at the Hampton Arts Film Festival in February.
Still, when their names were announced, Sangalang was surprised to hear that she and Garcia had won: "It happened so quickly that I didn't even have time to think about it. Justin's name was mentioned right off the bat, and my husband and Justin's parents kept saying, 'Get up!' I was too busy processing. … It was very surreal."
Land adds that these prestigious awards reflect that SCA's film program attracts the brightest and the best to work alongside an amazing faculty and an equally amazing film infrastructure at Regent University: "We thank God for these students and for their superior productions. We know they will excel in their careers and continue to serve as outstanding Christian leaders whose lives and works will change the world."
For more information about degree programs available through Regent University's School of Communication & the Arts, visit regent.edu/comarts or call 888.777.7729.