Charles Martin '00 didn't attend Regent University to "change the world." The School of Communication & Arts student arrived with a different goal in mind: "My heart was (and is) to listen, be obedient and offer my gift where He's called me." Martin's gift is writing. Shortly after earning his master's degree and doctorate from Regent, he began work on his first novel. Eighty-six rejection letters later, The Dead Don't Dance became the first of his 12 books. His sixth publication, Where the River Ends, was a New York Times best-seller.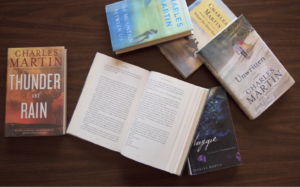 "It is no stretch to say that I am where I am — in part — in my career, because of what the Lord did in and through me at Regent," Martin says. "I had the best professors. Period. These men and women really loved the Lord. They shared that with me — all within the parameters of academic excellence."
Today, his stories are available in 25 languages and more than 30 countries. Martin's new novel, Long Way Gone, was released on October 4. "At its core, it's about the love of the father for his son and how far that love will go to rescue — both physically and emotionally."
Please join Regent University in praying for School of Communication & the Arts graduate Charles Martin, this issue's Alumni World Changer.