It's a landmark achievement that's been nearly 40 years in the making. In 1978, CBN University opened its doors with 77 students and seven professors inside rented classrooms in Chesapeake, Virginia. Back then, nearly everyone associated with the school "built for God's glory" hoped and prayed this would happen someday. And on September 6, 2016, it finally did.
On that now red-letter date, Regent University, in cooperation with Home Theater Films, released its first-ever full-length commercial feature film, In-Lawfully Yours. Available for viewing on Netflix, DVD and Digital HD, the romantic comedy is loosely based on the biblical story of Ruth and has been receiving high marks from critics. Movieguide calls In-Lawfully Yours, "One of the most entertaining and funny Christian movies," while The Dove Foundation gave the film a 4-out-of-5 rating.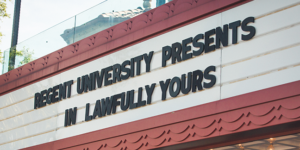 In-Lawfully Yours features a high-profile cast of actors from film and television. They include Chelsey Crisp (Fresh Off the Boat), Marilu Henner (Taxi, Evening Shade, Dancing With the Stars), Philip Boyd (Tyler Perry's The Have and the Have Nots), Joe Williamson (Grey's Anatomy) and Corbin Bernsen (L.A. Law, Psych, Major League). Bernsen is also the co-founder and president of Home Theater Films (HTF), the entertainment company that co-produced the project.
Based in Los Angeles, HTF has specialized in producing and distributing award-winning dramatic feature films, television series and wholesome family entertainment since 2008. Bernsen, who calls In-Lawfully Yours a "fantastic" and "really, really wonderful film," sees his nearly three-year partnership with Regent as a huge success. "I'm here with a smile on my face," he told Impact. "I'm here with a renewed heart, (as) a better person; and kids in the film school can walk away with a real credit on a film that's being distributed."
Bernsen insists that Regent students played an integral part in the production: "Did they direct it? No, they didn't. But … if these kids were not involved, if this film were done here or somewhere else without their integration, would it be the same film? If you took those students away, I don't think we'd have what we have today."
"Our students were delighted to work with the consummate professionals on this project. The producer, actors and crew modeled professionalism," says Dr. Mitch Land, dean of Regent's School of Communication & the Arts (SCA). "What a wonderful opportunity to work with Corbin Bernsen, director Robert Kirbyson, producer Chris Aronoff, and their team via Home Theater Films to co-produce this delightful romantic comedy."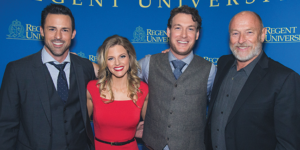 In-Lawfully Yours tells the story of Jesse (Crisp), a fun-loving city girl who catches her husband Chaz (Boyd) cheating on her. In the midst of her pending divorce, Jesse lovingly helps her recently widowed mother-in-law, Naomi (Henner), pack up her home in small-town Bethel Cove. Jesse's sarcastic wit, irreverent questions and big-city ways clash with the local church community. The local pastor, Ben (Williamson), who is the widowed brother-in-law of Jesse's ex-husband, also tries to help Naomi through her grief. But when Jesse and Ben's lives intersect, they hilariously and heartwarmingly find their faith — and each other.
Regent Assistant Professor Sean Gaffney wrote the script, which started out as a classroom project a decade ago. "I'm absolutely delighted to see the breadth of audiences who are enjoying the film," says Gaffney, who previously worked as a writer at Warner Bros. Studios. "It was always our hope that this film would speak to a wide variety of people and touch on their own circumstances. To see that come to fruition is a blessing."

"To have their first feature film-length movie is a huge accomplishment. Part of it is the collaboration with real-life experience to bring Hollywood actors to come and to partner. … To be a bridge between the professional world and the academic world is terrific."
— George Thomas
Four days after the film's official release, Regent held a red-carpet premiere of In-Lawfully Yours attended by more than 700 students, alumni, cast and crew of the production, and honored guests. Before the film started "rolling" in the Regent Communication & Performing Arts Center, Dr. M.G. "Pat" Robertson, the university's founder, chancellor and CEO, told the audience that In-Lawfully Yours would be the first of many family-friendly, faith-based features by the school.
"I've been in television for 55 years or more, and there are techniques of camera work, makeup, set design, editing, animation — and you go down the list of what's being done in Hollywood," Robertson said. "There are people who really are experts, and we're going to get experts of that caliber to work with our students to produce high-quality theatrical motion pictures that are going to be blockbusters."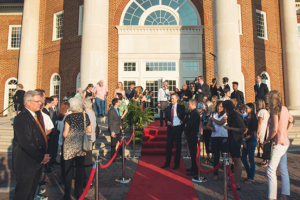 While many of those attending the premiere were people Land called "insiders," students, faculty and staff who worked on the film, he says In-Lawfully Yours is a dream come true for him and the university: "I was so proud for us to showcase this film, because I knew the audience would love it. The best part of the evening for me was watching the audience laugh and even cry during the film, because they were appreciating it as much as I do!"
Gaffney was "thrilled" by the response inside Regent Theatre: "It was amazing and surreal to watch the film with so many of the people who worked on the project or supported the effort in prayer. I am humbled to have been a part of the process."
Several Regent alumni were on hand for the premiere and expressed a great sense of satisfaction and pride at the result. "I think for all of us who came to Regent in the early days to see an accomplishment like this is very exciting," said Ben Edwards, a 1984 SCA graduate who is now vice president of CBN International. "I think all of us thought the potential was here for the university to grow and really do some great things in the future."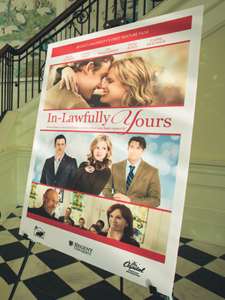 Sandy Engel '85 is the line producer for The 700 Club and served as the Christian Broadcasting Network's entertainment reporter for 10 years. She congratulated Regent for "taking a seat at the table, producing a faith-based feature-length film that is both entertaining and inspiring." Engel called In-Lawfully Yours "authentic" and noted that the romantic comedy reflected "the highest standards in acting, script writing, directing and overall production value." She added, "I'm thrilled to see my alma mater has conquered another milestone and that the Regent film school is now being recognized by Hollywood as a player in the industry."
"I'm so proud of the university all of these years later," said George Thomas, a 1995 SCA graduate who's currently a senior international correspondent at CBN News. "To have their first feature film-length movie is a huge accomplishment. Part of it is the collaboration with real-life experience to bring Hollywood actors to come and to partner. … To be a bridge between the professional world and the academic world is terrific."
Impact had the opportunity to sit down with three of the four principal actors on September 10, just minutes before their red-carpet arrivals. (Marilu Henner was unable to attend the premiere due to her participation on Dancing With the Stars.) Each expressed they were glad to have been a part of the production and especially enjoyed the energy and enthusiasm the students brought to the set.
Joe Williamson paid Regent perhaps the biggest compliment of all when he called SCA's film program "legitimate." He explained, "You could see it on set, and it's great to see from someone who works in the professional ranks. You come and you see the eagerness and the willingness to learn and to listen and to work hard. It was really great."
"It exceeded my expectations. The film itself … lived up to what my hopes were that it could be."
— Chelsey Crisp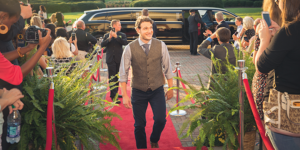 Phillip Boyd found working and interacting with students on set "exciting." He added, "One of the best parts about working with students is that they're eager to learn. I think that's huge in any capacity when you're working in any sort of job. The more eager you are to learn, the more hands-on experience you can have with people who have been through it or people who have worked on (other) productions."
An avid supporter of continuing education, Chelsey Crisp was committed to building up the students she came into contact with. "I do try to work with young actors a lot to help them find their way into the business, and I do think that's something that drew me to this," she explained. "It exceeded my expectations. The film itself … lived up to what my hopes were that it could be."
Crisp also said she had a sense of what producing a feature film like In-Lawfully Yours meant to everyone associated with the university: "We did know while working on it that we were in a special place and doing it with a great group of people. But I think now, we're starting to see the full picture of what it really does mean to the school."
In its first week of release, In-Lawfully Yours was featured on the Netflix home page as "popular" and "trending." Land sees that as a strong sign that the film will "endure" with audiences. "I truly believe we broke some new ground with this film, especially with its coming out of a very conservative Christian university," he noted. "We would love to continue making feature films, and we would like for our curriculum to be even more integrated into the process. Our students and faculty at Regent want to write authentic stories about life as it really is."
In-Lawfully Yours can be seen on Netflix and is available for sale at Walmart, Amazon.com and other retailers. Or visit hometheaterfilms.com to purchase this and other family-friendly, faith-based feature films.