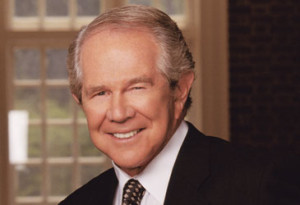 Dear Friend,
In 1975, over a lunch of cantaloupe and cottage cheese in the coffee shop of the Grand Hotel across the street from Disneyland in Anaheim, California, I received a very specific word from the Lord. "Build a school for My glory," He said. Three years later, with the help of seven faculty members, 77 students began pursuing graduate degrees inside rented classrooms in Chesapeake, Virginia. Back then, Regent University was known as CBN University when it began equipping Christian leaders to change the world.
Fast forward nearly 40 years, and you'll see that Regent is doing better than ever. This year's commencement class was the largest in the university's history with more than 1,900 graduates. These men and women have been equipped as Christian leaders to make a global impact.
In my charge to the graduates on May 6, I shared Jesus' words to the disciples in John 5:17, "If you abide in Me, and My words abide in you, you will ask what you desire, and it shall be done for you" (NKJV). I urged these new alums to attach themselves to our Lord and Savior and to let His Word attach itself to them. This is still our Father's world, and Jesus is still Lord of all. So, if they dwell in Him and His words, then nothing will be impossible for them.
I see excellence when I look at the graduates of this university. What they've been able to accomplish has been extraordinary. Among our more than 23,500 alums, we have nine university presidents, two university chancellors, 800 faculty members working at 420 colleges and universities, 825+ teachers of the year and 400 graduates working in Fortune 500 companies. And that is by no means a complete list.
Regent is just warming up! As the saying goes, "You ain't seen nothin' yet." U.S. News & World Report ranks the university's online bachelor's degree #1 in Virginia. We're also the #1 ranked military-friendly university in America according to a leading military publication.
I've said many times that I want as many students as possible to be able to answer God's call to attend Regent University. Please consider what role you can play, financially and/or prayerfully, to help equip the next class of Christian leaders who can change the world.
Thank you for your friendship and support.
Sincerely,
Dr. M.G. "Pat" Robertson
Founder, Chancellor & CEO
Regent University