Several verses in the Bible describe a believer's faith journey as a race. God's Word tells us to "run in such a way as to get the prize" (1 Cor. 9:24) and to "run with perseverance" (Heb. 12:1). Scripture also encourages us to "press on toward the goal to win the prize" (Phil. 3:14). At Regent University, those spiritual metaphors recently became physical reality.
For the first time in Regent's nearly 40-year history, student-athletes are participating in intercollegiate sports. The university's inaugural track & field team is competing this spring as part of the National Christian College Athletic Association (NCCAA). Even though the starting gun only recently fired to kick off this new endeavor, Regent is already demonstrating a strong commitment to building a competitive sports program.
"In 2016, our chancellor had a vision of a track & field team made up of international students competing on our campus," says Dr. Joseph Umidi, Regent's Executive Vice President for Student Life. "He was convinced that it was a compelling part of the university's future."
Regent Founder, Chancellor and CEO Dr. M.G. "Pat" Robertson sees the introduction of intercollegiate athletics as one of the next "big things" on campus. "We're planning to build a beautiful sports complex that has athletic fields, a track, a basketball court and a field house," Robertson explains. "Not only will students, faculty and staff have access to the facilities in the new field house, they'll be expected to use them, so they can work on staying fit and healthy year-round."
Umidi notes that his research on student retention shows that it's important to have a holistic approach to campus life that includes physical exercise. "With the subsequent work and planning for new athletic facilities and fields, we will be prepared for a major expansion to our campus population," he says.

Over the next three years, Regent plans to field teams in 10 sports. "We're scheduled to have soccer (men and women), volleyball (women), basketball (men and women), and wrestling (men) over the next 24 to 36 months," explains Roger Cheeks, the university's interim athletic director and director of Student Activities & Leadership. "Prayer may sound simple and cliché, but not for Regent. We really believe that fervent prayer for our athletes and for our teams is vital."
Cheeks plans to establish an advisory board to help counsel the university's up-and-coming athletic department: "I'd love to have some alumni chime in and help us craft and build this program on a global perspective. As you know, our chancellor and founder has a global vision, so we want to be right there with him."
He continues, "We want to impact the sports and entertainment world. We started with a School of Communications that had 77 students. Now, we're in all of these different spheres of influence. Why can't we enter the athletics area and impact the world?"
While Regent's student-athletes may not be changing the world just yet, the new track & field team is making great strides. Their first two meets of the spring semester, held inside Christopher Newport University's Freeman Center, did more than make history. The events also featured outstanding performances by several Regent competitors.
"I think it will build a lot of character and a lot of camaraderie among the students. I think bringing sports into academics is really important."

– Megan Gibson
Head coach Ayanna Reece, a former All-American in the 400-meter hurdles at Ohio State, already saw marked improvement after the team's first two competitions. "I can't express how excited I am by the fact that they're progressing every meet," she says. "It's amazing to see God do exceedingly and abundantly above all we can ask or imagine from the ground up."
Reece wants the university's students, alumni and friends to know that her athletes are working as hard as they can to win on and off the track: "They're trying to represent not only Regent, but they're also trying to represent the kingdom of God, which is first and foremost. And they're doing a great job at making the Regent family proud."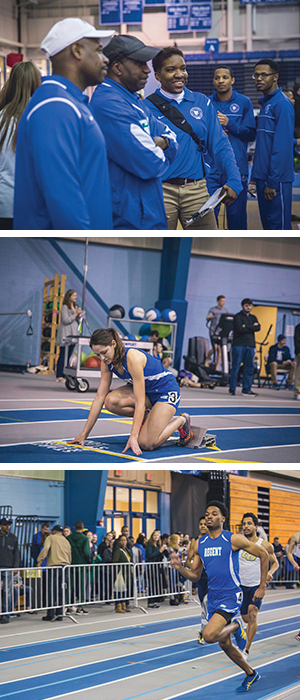 "We want sports to be excellent," Cheeks adds. "But we also want excellent students in our sports program. I tell our athletes and coaches, 'We want student-athletes. We don't want just athletes. We want student-athletes who love God.' That's key."
A former Division 1 college basketball player, Cheeks insists that, even though a sports program is uncharted waters for Regent, this historic team is laying the ground work for future success: "We started out with 43 students. They're out working at six o'clock in the morning, getting up for practice every morning, coming to meetings. They're not on scholarship. They just have a desire to be part of a team, and now we've developed a family. So it's been great."
Shot putter QuaNeisha Roberts ('19), a College of Arts & Sciences (CAS) sophomore from Suffolk, Virginia, is the first Regent student to compete in an intercollegiate athletic event for the university. "I was very nervous at first, seeing the competition," she remembers. "It was my first time ever being on a track team. But as soon as I got up there, (my nervousness) was gone. I'm honored to be the first athlete to ever compete for Regent, and I just see a great future for this team."
Sarah Golden ('20), a CAS freshman cinema-television major from Nazareth, Pennsylvania, runs the 400 meters. She was the first Regent athlete to bring home a victory for the university. "Being the first to win for the team is exciting, but I don't see it as a huge deal," Golden says. "I just go out and practice like everyone else and do the best that I can. I've been told that this team is very important, and a lot of people have been talking about us. It's a pleasure to be a part of something new that matters to so many. I only hope that I can do my team and my school proud."
The first male student-athlete to taste victory in intercollegiate competition for Regent is CAS junior Jonathan Kemp ('18). He also runs the 400 meters and has been amazed by the support he's received from everyone at the university. "When I'm out there, it feels like I have the biggest fan base," Kemp explains. "It really drives me, especially through the homestretch when you have nothing, but you hear everyone cheering you on."
He adds, "My team has grown as a family, and we're like best friends on campus now. The entire school has really been rallying around this team. It's encouraging and cool to know that we have an entire school backing us."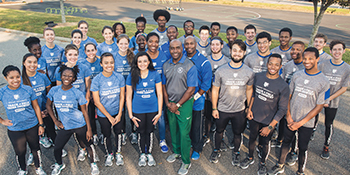 In addition to fellow students, faculty and staff, Regent track & field also has the support of local alumni. Hampton Roads Chapter MBA Chair Scott McJunkin ('09) attended the team's second meet with his wife Bonnie ('09) and their four-year-old daughter on February 4 in Newport News, Virginia.
"I wanted to show my support for the team and to meet other alumni from the area," McJunkin says. "Having a sports team is a great way for alumni to form stronger ties with each other, as well as with the university. Also, as Regent grows their athletic programs, they will give current and potential students even more reasons to choose Regent."
Elizabeth Rohr ('17) and Megan Gibson ('17) are both in their final semesters at Regent's College of Arts & Sciences. They traveled to the team's second meet in a school-sponsored "Fan Van" to cheer on their classmates.
"It's awesome," Gibson beams. "I think it will build a lot of character and a lot of camaraderie among the students. I think bringing sports into academics is really important. It's important to make a statement by competing well, showing good sportsmanship, and representing our school in a positive way."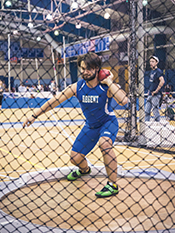 "We're Christian leaders to change the world," Rohr points out, referencing Regent's mission statement. "So, I think exhibiting Christian leadership on and off the field is important. It gives us a platform to exhibit that. I think it's a really good thing. Sports bring people together."
Cheeks agrees that a vibrant and successful athletic program will attract and retain quality students, while also creating a sense of community that will remain long after graduation:"You give people things to do outside of the classroom. You also provide a fan base and a family atmosphere for these kids. They're creating relationships now that will last a lifetime. So when they come back as alumni and bring their families, they can say, 'I played sports here, and I was proud to play sports here.' It just adds to the great thing that Dr. Robertson started 40 years ago."
For information about pursuing an undergraduate degree at Regent University's College of Arts & Sciences, visit regent.edu/cas or call 888.718.1222.