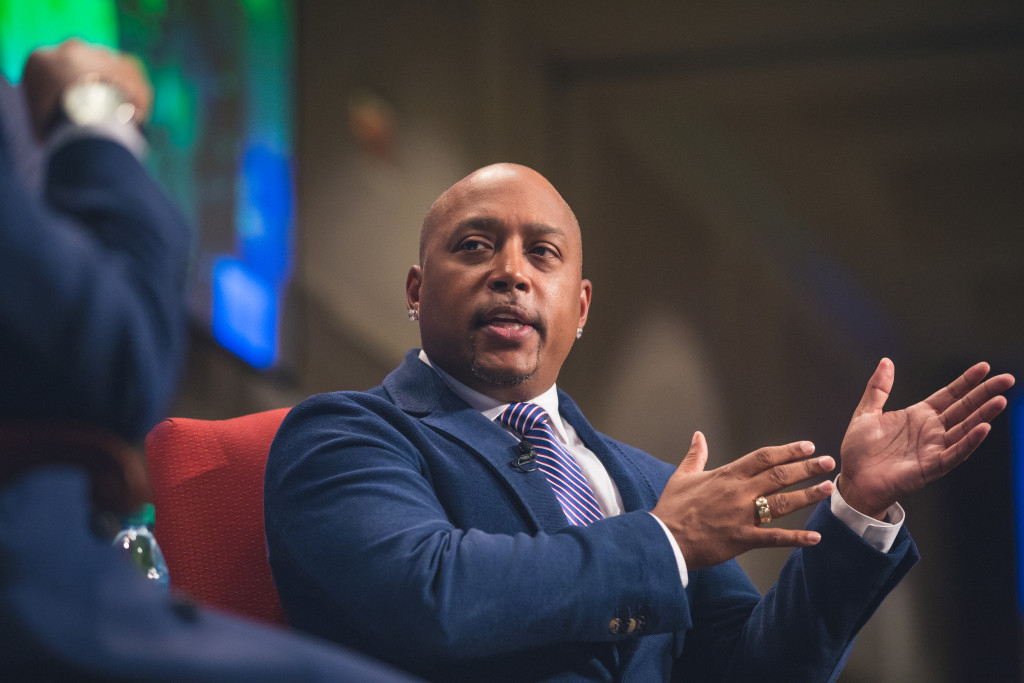 Of the many high-profile and established business, entertainment, political and religious leaders gracing Regent's campus, few have made the kind of impact on American and urban culture that Daymond John has.
Regent is excited to partner with the world-renowned marketing and branding expert, who is also the founder and CEO of the FUBU apparel line and a star of ABC television's "Shark Tank." The Daymond John Certificate in Entrepreneurship: Building Your Business with a Shark launches its second session on January 4. This collaborative effort gives adult learners and younger students the opportunity to gain the entrepreneurial skills and training they need to become Christian business leaders to change the world.
To preview the new session, John participated in a Q & A session with CBN News senior international correspondent and Regent alum George Thomas at the largest Executive Leadership Series Luncheon in the university's history. During the September 29 event, John shared with the 800-plus people in attendance what makes a successful entrepreneur.
"Failures, if you think of it, are more of a process of elimination. I learned to keep working until it was just right."
"I think it takes hard work and discipline, no matter what. It takes being able to fail many, many times," he explained. "Failures, if you think of it, are more of a process of elimination. I learned to keep working until it was just right."
Later that same day, after recording five unique teaching modules for the business-certificate program, John told a crowd of enthusiastic Regent students, "I appreciate all the wonderful professors and staff who have been helping me with this, because I have always been a person who is able to run the business. But I could never articulate it well enough on a curriculum basis where people can absorb it, and they can learn, and then they can go and exercise it. So thank you for your knowledge and your ability to put it together where it's very soluble and people can go on to learn from there."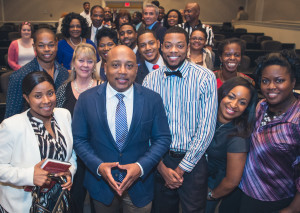 This joint venture between Regent's Office of Advancement and Office of Academic Affairs is managed and facilitated by Dr. Markus Pfeiffer, who has been with the university since 1998: "The skill set these students gain from this certification program really helps them to set up their business on a firm foundation. Many people go into the small business and entrepreneurial world with a lot of enthusiasm, but they don't really have the foundation they need. Daymond John provides that in a very practical way."
Sessions will continue through June 18, 2016. While the online courses are taught by Regent faculty, mainly professors at the School of Business & Leadership, no on-campus time is required. Participants can study and learn anywhere, anytime. Each module spans four weeks, requires approximately four to six hours of study time per week, and involves a weekly assignment. The modules also integrate a 10- to 15-minute video teaching from John that draws on his unique background and extensive entrepreneurial experience.
Pfeiffer says Regent is very happy and proud to team up with The Daymond John Center for Entrepreneurship. The two entities are also working on creating a new business certification for high school students. John calls the effort "amazing."
"I just really am excited that Regent has the vision and wants to make sure that entrepreneurship and its mindset are taught on a mass level," he explains. "I think the beauty of 'Shark Tank' is that it has elevated people's interest of (entrepreneurship) in social media. But many of the educational outlets don't offer what Regent is doing. So I'm really, really excited about it."
To learn more about the Daymond John Center for Entrepreneurship, call 800.335.4409 or visit regent.edu/daymondjohn.