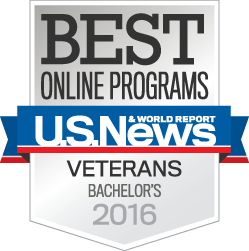 With a Marine Corps veteran as its founder and chancellor, Regent's commitment to U.S. servicemen, servicewomen and their families is not surprising. In fact, the university is so dedicated to helping members of America's armed forces excel that it's earning high marks for military "friendliness."
Recently, the digital magazine U.S. News & World Report ranked Regent's online bachelor's degree program among the "Best for Military Veterans" for the second year in a row. The university finished first in Virginia and 15th nationally out of more than 1,200 schools, whose distance-education programs were judged on their affordability, accessibility and reputation.
"Our military-related student population encompasses approximately 28 percent of our entire student body," explains Bob Habib, Regent's director of graduate and military admissions. "As such, we take pride in this enormous responsibility to serve those who are serving, and who have served us."
Habib adds that the university's staff and professors understand the unique sacrifices made by military students and seek to "go the extra mile" to ensure their success, which includes "academic, professional and spiritual growth." He also notes that Regent is surrounded by what he calls "an amazingly healthy military population." With Norfolk Naval Base and several other duty stations nearby, Habib says the campus is a direct reflection of the community the university serves:
"Our goal is to maintain a military-supportive environment where our student service members, veterans and their families can achieve their academic, professional and spiritual goals. We strive to make Regent University as accessible as possible to all students, and have created a large support network to assist with the military-to-student life transition."
"Our goal is to maintain a military-supportive environment where our student service members, veterans and their families can achieve their academic, professional and spiritual goals." – Bob Habib
Regent earned an even higher "military friendliness" grade from SR Education Group, which ranked Regent #13 on their 2016 Top Yellow Ribbon Online Schools. The group's website, GuideToOnlineSchools.com, evaluated more than 500 fully accredited colleges that provide "a strong military culture, exceptional online support to its military students," and earn "high marks in financial aid and flexibility."
SR Education commended Regent University's online degree program for its "versatility, an attractive feature for active-duty military members. With online classes starting every eight weeks year-round and a multitude of undergraduate degree options available, students are able to set their schedule at their own pace."
Other factors that earned Regent a place among the "top online schools" were the ability for students to receive academic credit for military training and experience, along with the university's various tuition discounts and participation in the GoArmyEd program.
"Regent's mission and values are aligned with the traditions of the military," says José Roman, assistant director of Regent's Office of Military & Veterans Affairs. "This university is recognized by the military community for a solid education and a supportive environment for veterans and service members transitioning from the military."
Roman adds that Regent seeks to be the number-one resource to empower military service members, not just in Hampton Roads or in Virginia, but across the country.
"Our office is always available to all our students: online and on-campus. Our military-affiliated learners get to know our staff by name," Roman explains. "We make a connection whether via e-mail to Afghanistan or anywhere in the country; we become a one-stop shop to answer questions and provide resources for our students."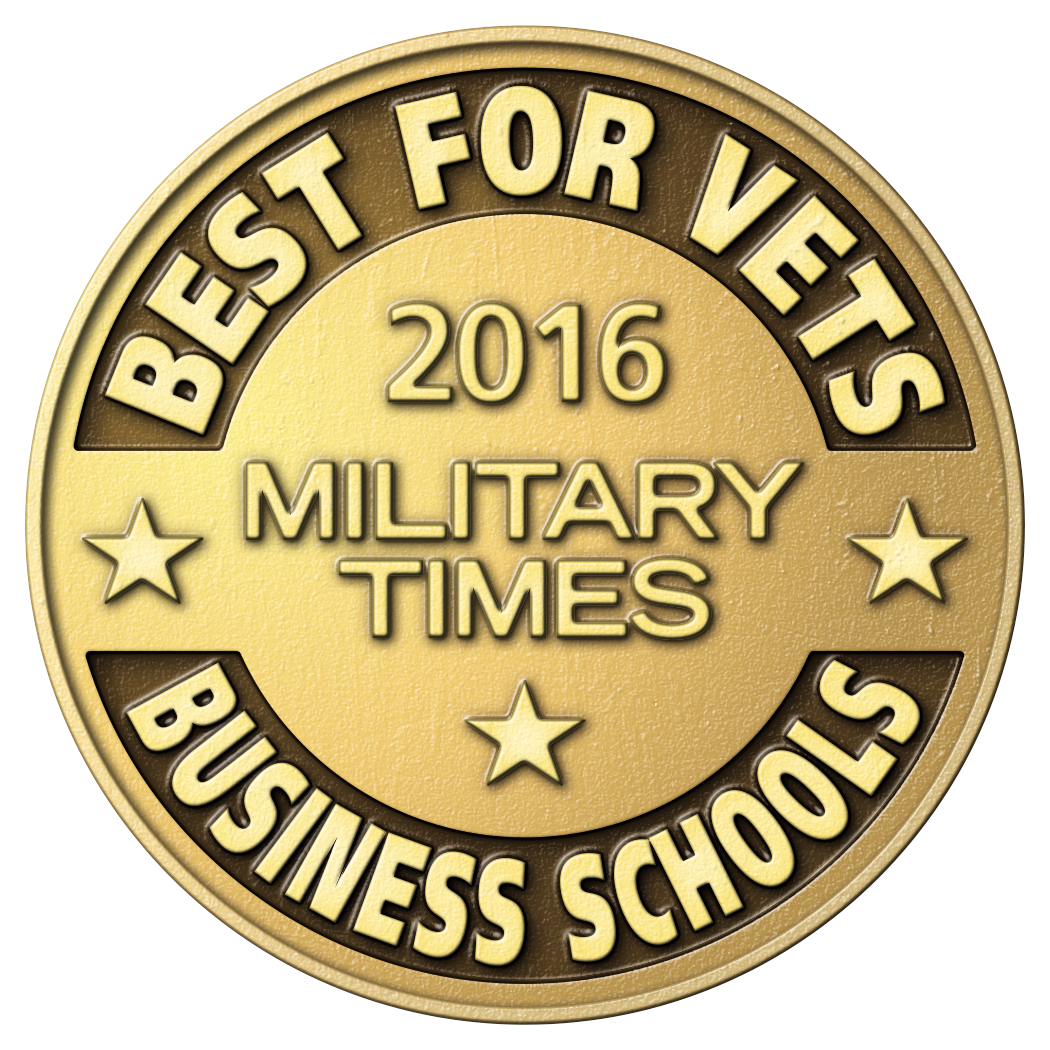 Also in 2016, Regent's School of Business & Leadership (SBL) was recognized by the prestigious Military Times. The organization, made up of Army Times, Navy Times, and Air Force Times, ranked the university 33rd out of 77 "Best for Vets: Business Schools" for graduate degrees. Dr. Doris Gomez, SBL dean, calls the ranking "humbling and gratifying," adding that being acknowledged by the Military Times is one of her school's greatest accolades.
"Our staff and faculty have the greatest of respect and admiration for our military students, veterans and their families," Gomez says. "Because of it we strive to offer programs that are not only beneficial to them, but also provide the utmost flexibility to accommodate our military students' complex schedules (including deployments and transfers). We will never take their service and sacrifice for granted. To serve them remains our joy and honor."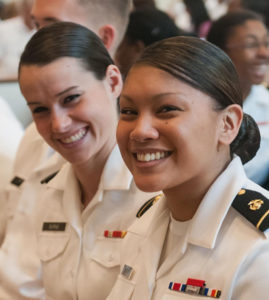 At Regent, military students find a unique combination of top-ranked online programs and generous military benefits, which include generous transfer-credit policies, tuition assistance for associate and bachelor's degrees, 25-percent tuition discounts for graduate degrees, and even tuition discounts for military spouses and dependents.
Phillip Wyman retired as a gunnery sergeant after serving 20 years in the U.S. Marine Corps. Also a former mixed martial arts (MMA) fighter, Wyman trained and fought "all over the world." Now, he uses those experiences to serve the Lord as an evangelist and will soon earn his bachelor's degree from the university.
"I continue to be interested in God. I want to serve Him," Wyman explains. "Regent has great classes with great professors. After I graduate in the fall, I'll work on my master's in divinity. I'd like to look into the Navy Chaplain Corps. I think I can still serve in some capacity."
Regent's ultimate goal is to train military students to become experts in their chosen fields, while they grow in their faith and become Christian leaders who change the world. But to continue serving active-duty military, veterans, spouses and their dependents, Regent needs the ongoing prayer and financial support of alumni and friends.
"Donations allow us to lower tuition fo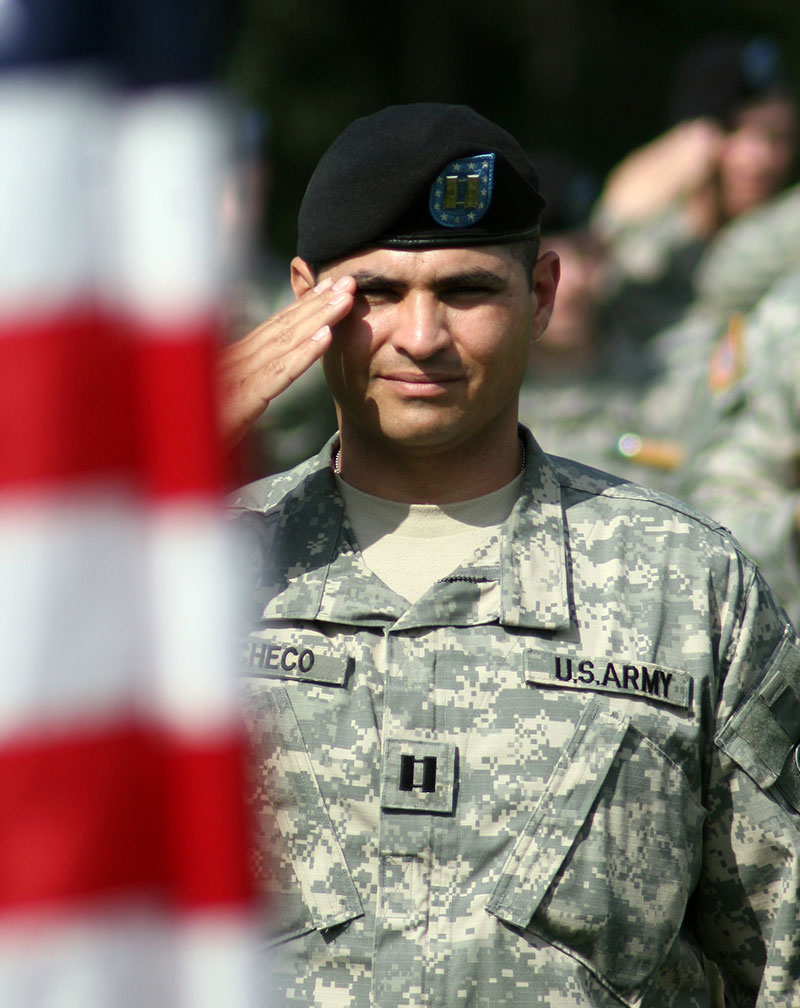 r active-duty military, veterans and their spouses," says Regent Vice President, Ann LeBlanc. "These men and women have done so much for our country, and we welcome them to this university. But we rely on the sacrificial giving of donors to help us provide tuition relief for those who sacrifice so much to keep our nation safe and free."
It's important to note that being a "military-friendly" university involves more than just offering tuition discounts, distance classes and convenient schedules. It's about faculty and staff creating an environment, both on campus and online, where service members can excel in whatever situation they find themselves.
"Becoming a Christian leader to change the world is a lifelong process," Habib explains. "Regent provides the opportunity for all students to share and utilize their knowledge and experiences with one another in order to benefit the greater good. … Our military students bring a breadth of real-world experience that, when combined with their academic experiences, prepares them, not only to continue to serve their respective military communities, but also to impact their communities at large in more meaningful ways."
Learn more about Regent University's military programs and benefits at www.regent.edu/military or call 757.352.4757.