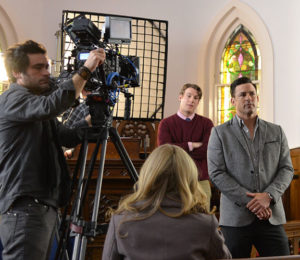 While the release of In-Lawfully Yours was literally a groundbreaking achievement for the university, there was a very practical side to the project that must not be overlooked. More than 80 Regent students received valuable film credits by participating in the production.
When In-Lawfully Yours began filming in January and February of 2015, those students set aside their textbooks and worked as assistants to the director and producer, production coordinator, art department coordinator, grips, casting, assistant location manager, set dresser and script supervisor, among other assignments.
"We do great films, and they're short films," says Dr. Mitch Land, dean of the School of Communication & the Arts (SCA). "But when you do a feature film that's available commercially, that just takes us to a new level. A lot of our students have film credits in this film, and it's already propelled careers."
David Cunningham '17, assistant to the film's producer, Chris Aronoff, went from completing his work on In-Lawfully Yours to getting hired by the Christian Broadcasting Network (CBN) almost immediately: "The day after we wrapped filming, the director asked me, 'So, what are you doing next?' Then he told me, 'I know the people producing CBN's Superbook animated series, and I heard they're looking for somebody.' So, I got an interview and was offered the job."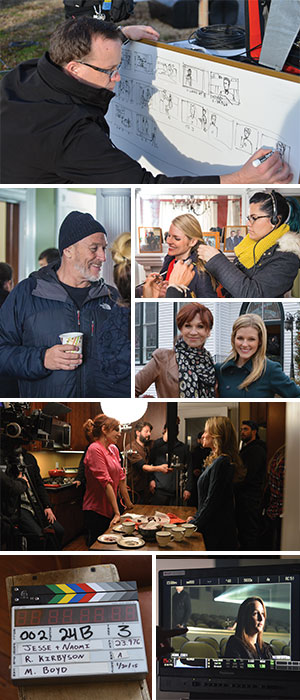 But getting that job was no fluke for Cunningham. He had to put in the hard work to prepare himself for success. "Getting a professional [film] credit as a student was really huge," he explains. "It's important to have lots of experience before entering the industry. You can theorize about it. You can talk about it. You can watch videos about it. But actually being there on set is completely different."
Akima Brown worked as a casting assistant on the film and used that experience to find a full-time job in the industry. The 2015 SCA graduate is a casting coordinator for New Dominion Pictures. "Thanks to my experience working on the film, I came in well versed and well prepared for my [current] role," Brown says. "Much like my time on In-Lawfully Yours, I'm gaining invaluable experience and making incredible connections, which I can see God using to open new doors."
When Kim Kopeski '15 was given the opportunity to work on In-Lawfully Yours, she already was working full time and attending Regent full time. But she jumped at the chance to serve as assistant to the director, Rob Kirbyson, and learned "an amazing amount" in a short period of time.
"It was overwhelming actually," she admits. "My dream is to direct documentaries, so to be able to be on set every single day and see all the little intricacies that go into making a feature film was huge for me. … (It was) an amazing opportunity that I never would have dreamed possible while I was still in school."
"I remember at first saying, 'I'm not going to have much for you to do,'" Kirbyson recalls. "In retrospect now, I don't know how I could have made this movie without Kim's help. She was so invaluable to me."
Assistant Director Caryn Nowland says Kopeski was "multitasking all over the place" and became a "de facto member" of the assistant-director team: "She stepped right in and has been up for every challenge that was thrown at her. … Kim worked very hard. I know that she has been an invaluable asset to the director, spending long, long hours helping out with a variety of different things."
Kopeski says working on In-Lawfully Yours proved that she's on the right track in her life and her career: "I knew this is what I wanted to do. But after being on set and watching Rob, the director, work with the talent and the crew the way that he did, I just knew I was in the right place at the right time. And it further solidified what I want to do for the rest of my life." She adds: "It's been an incredible learning experience and a huge blessing."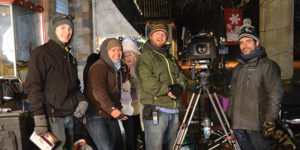 Morgan Burke was a senior at Regent's College of Arts & Sciences when she worked as a set dresser on the film. Even though a production like In-Lawfully Yours involves long days and many late nights, Burke knew it was an opportunity she couldn't pass up. "I wanted to sleep for a week when we wrapped," she remembers. "But because of all that hard work, so many doors have opened for me, and I've gained so many new friends and connections that will always be a part of my life."
Burke adds that she can't wait to see the "imprint" this production leaves on the university and how it will affect future student films. But there's already undeniable proof that In-Lawfully Yours is having a positive impact on Regent students and graduates.
"The experience was filled with surprises and delights that we couldn't even imagine," says SCA Assistant Professor Sean Gaffney, who wrote the script for In-Lawfully Yours. "The students were able to flex their muscles in a professional environment that allowed growth affirmation of their gifts."
Land points out that the project allowed Regent students to work on a feature film even before crossing the platform to graduate: "Since the entertainment industry is so notoriously difficult to break into, this professional-level experience will no doubt be a major plus for any student looking for a career in the industry."
For information about enrolling in a graduate program at Regent University's School of Communication & the Arts, call 888.777.7729 or visit regent.edu/sca. To pursue an undergraduate degree in acting, cinema-television, communication or theatre at the College of Arts & Sciences, call 888.718.1222 or visit regent.edu/cas.