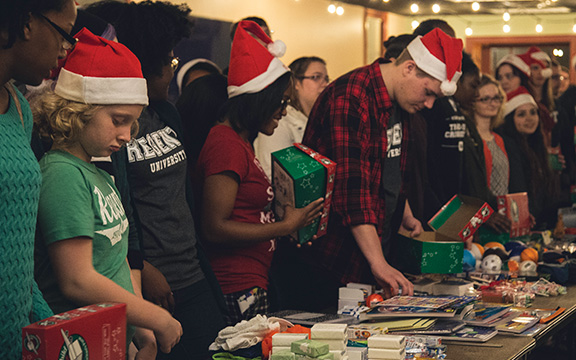 A "millennial" is defined as a person who was born in the 1980s or 1990s. The group is often referred to as the "me" generation due to a perception that many of these individuals are driven by selfishness and a sense of entitlement.
But that's not how the university's founder, chancellor and CEO, Dr. M.G. "Pat" Robertson, views the millennials enrolled at Regent. Robertson believes Regent has a responsibility to help keep their faith grounded in the Lord as they become equipped to change the world, "We tell our students, 'This is a cause. This is a calling. You are training yourself to be a leader. You're not here to drink and party. You're here to become a Christian leader to change the world.'"
Journey Out
One way students answer that call is by paying it forward through Journey Out, an outreach program led by Regent University Campus Ministries. "The vision for Journey Out is to encourage and build holistic disciples," says Rev. Sara Carrara Di Fuccia, associate director of Campus Ministries. "Service and outreach grounds us and honors the Lord in so many ways!"
"Service and outreach grounds us and honors the Lord in so many ways!"
— Rev. Sara Carrara Di Fuccia
Journey Out enables students to serve others through several regularly scheduled volunteer opportunities. LoveLight ministry provides hygiene kits, food and prayer to homeless people on the Virginia Beach Oceanfront every Thursday night and on the first and third Friday of the month; Campus Ministries leads service-oriented "Good Fridays" outreaches. "Life Group Outreach Week" occurs every fourth week of the month, with students serving at public schools, police stations, nursing homes, homeless shelters and city parks across the Hampton Roads area of Virginia.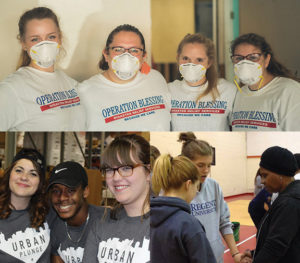 Campus Ministries also organizes an annual Spring Break outreach trip called the Urban Plunge. "The past two years, we went to Nashville and worked with many different ministries to help the poor, homeless, at-risk children, etc.," Di Fuccia explains.
Christian Ellis, a student worker with Campus Ministries calls the trip to Nashville "life changing." He says, "One of the incredible experiences from the trip was working at a Christian after-school care center. Honestly, I went into it thinking that I could change them, but I left changed myself."
Di Fuccia wants students to "embrace the lost and the poor" so they can "stay in touch with the brokenness of the world" and be good stewards of the hope that's within them (1 Peter 3:15). She adds, "I teach them that to neglect outreach is to neglect their spiritual exercise of their faith."
Community Service Day
In August, students from the Regent University School of Law answered the call to pay it forward by participating in the school's eighth-annual Community Service Day. More than 150 law students volunteered their time and talents to serve nonprofit organizations in the local community.
"Regent Law trains servant leaders who, following the example of our Lord, are committed to serving, rather than being served."
—Michael Hernandez
The initiative is particularly important to the school's dean, Michael Hernandez, who explains that every Regent Law student is expected to complete 50 hours of volunteer work during their academic career. "Our community service days are an important part of this commitment to public service," Hernandez explains. "Regent Law trains servant leaders who, following the example of our Lord, are committed to serving, rather than being served."
Alexandra McPhee '17 has participated in three Community Service Days. This year, she did landscaping outside a local homeless shelter. "I like volunteering because it helps me actively recognize that there's a world outside of law school and that other things besides my schedule are important," McPhee says. "It brings all of us closer together."
Hurricane Relief
In October, several of Regent's Student Alumni Ambassadors paid it forward by working with Operation Blessing to help victims of Hurricane Matthew in Virginia Beach. "We cut drywall, removed nails and ripped up flooring," explains Dominique Mayo. "There were about 10 of us who were sent there by Operation Blessing staff, and I think that when the homeowner saw us and realized that we were there to help her, she was a bit overwhelmed."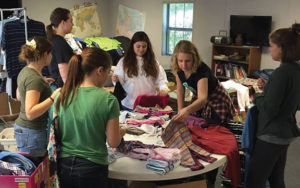 Being part of the Operation Blessing team opened up Mayo's eyes about herself and her willingness to pay it forward. "I haven't been putting others before myself as much as I should be," she says. "It has influenced me to help the people who I am around every day and has increased my heart for service."
Shaye Hatfield, a junior at Regent's College of Arts & Sciences, volunteered with Mayo and about a dozen others. Hatfield thinks it's important for everyone to embrace the concept of paying it forward: "Doing so lets people put others before themselves. Caring about, thinking of and serving others are all important aspects of creating community and really paying it forward."
Operation Christmas Child
More recently, about 70 Regent students gathered on campus to fill more than 150 shoeboxes for Operation Christmas Child, an outreach of Franklin Graham's Samaritan's Purse ministry.
Katherine Person, a senior in the College of Arts & Sciences spearheaded the event. She was motivated to participate because of her heart for underprivileged children: "Christmas is a time of year that holds so much potential to bring people joy. This joy, more than the toys themselves, is what I hope to send to children overseas."
Person says she was "awestruck" by the enthusiasm shown by Regent students to pay it forward on behalf of kids they would likely never meet. "The tables were literally filled with toys and care items for the children," she remembers. "The generosity shown by college students, who already have very little to give, was very humbling and inspiring. My own life was impacted because I saw so much generosity from the Regent community."
Mission Trip to Ghana
For the ninth time, School of Divinity associate professor Dr. Clifton Clarke brought a team of Regent students to Ghana. The mission trip enabled them to practice their preaching and ministry skills at large church gatherings, schools, orphanages and on the street.
"There was so much joy in these people's eyes and smiles that the poverty level didn't bother them."
— Janella Williams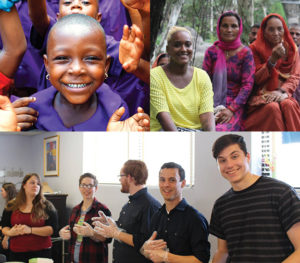 "I am always amazed at what God does in each of the students who come," Clarke says. "The trip provides practical mission exposure and experience that complements the Regent mission to train global leaders to change the world."
Janella Williams '17 traveled with about a dozen other Regent students for 12 days in June. She says the Ghanaian people there have an overwhelming, radiant and contagious joy: "There was so much joy in these people's eyes and smiles that the poverty level didn't bother them. They were just happy to be alive, being able to serve God and do what God allowed them to do."
Williams encourages other Regent students to take advantage of a global mission trip while they study at the university. It's a way for them to pay it forward on an international level. "Just go and do it," she insists. "Once you come back home, you're going to be so on-fire for God when you see how other Christians outside of America have such a high level of faith. Your relationship with God is going to be intensified."
Trauma Training in India
A 21-day summer immersion trip to India saw 24 Regent students and faculty members from the School of Psychology & Counseling (SPC) offer trauma training to pastors and missionaries in the city of Hyderabad. As representatives of the university's Center for Trauma Studies, the team also worked with underprivileged women and youth touched by domestic violence, sexual trauma, and/or economic and cultural isolation in Dharamsala, near the Himalayan Mountains.
"Wherever you go, if you pray for God to open doors, be prepared."
— Dr. Merrill Reese
"There's no shortage of pain in the world," says SPC assistant professor Dr. Merrill Reese, a Regent alumnus and the center's co-director. "Wherever you go, if you pray for God to open doors, be prepared."
The Center for Trauma Studies pays it forward by providing training resources that continue to impact victims long after the team leaves. "The trips we take are a wonderful opportunity for faculty and students to learn and equip themselves, but also to give back," Reese says. "It's about equipping the saints (there) to do the work, so the work carries on when we leave."
To sponsor a Regent World Changer with your tax-deductible, year-end gift, call 800.335.4409 or visit regent.edu/worldchanger today!